Estimated read time: 2-3 minutes
This archived news story is available only for your personal, non-commercial use. Information in the story may be outdated or superseded by additional information. Reading or replaying the story in its archived form does not constitute a republication of the story.
Shelley Osterloh ReportingWhen the best of modern medicine is no longer able to cure or restore health, it is now used more frequently to aggressively manage pain so a patient can be as comfortable as possible at the end of life.
Doctor Perry Fine believes that hospice may truly be one of the best kept secrets in American healthcare.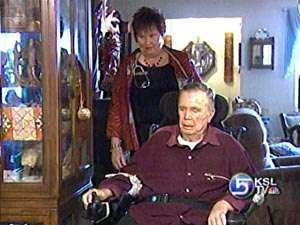 Perry G. Fine, M.D., University of Utah Pain Management Center: "I think that all of the data, all of the studies that have been done evaluating how people--patients themselves and their families--experience dying under hospice is superior to any other form of care, at a lower cost."
About 80-percent of the people who die in the United States are Medicare beneficiaries and are entitled to hospice benefits -- that's based on a doctors' six-month prognosis of the end-of-life. And the benefits are quite substantial.
Perry G. Fine, M.D.: "So all of these what are called palliative medicines, that relieve symptoms and that manage the illness, are covered under the benefit. All medical equipment and medical supplies are all covered. So it's a tremendous potential cost savings for families."
More and more patients are electing to die at home rather than in a hospital. Hospice makes that possible for people like Ron Watts.
Ronald W. Watts, Hospice patient: "Well, it provides me a way to die under my terms, and yet die with some dignity and tranquility."
Dee Horn, R.N.; Case Manger VistaCare: "Well I've been in every arena of nursing and this has been, I feel, the most challenging and most valuable of all my nursing career, because I can help people leave this world comfortably and with dignity."
The growing consensus of those in healthcare is that "dying with dignity" means having some choice in what's going on, who's there, and where you choose to be when the time comes.
Hospice services are not only available in the home, but also in assisted living centers, even in the hospital.
×
Most recent Utah stories