Estimated read time: 2-3 minutes
This archived news story is available only for your personal, non-commercial use. Information in the story may be outdated or superseded by additional information. Reading or replaying the story in its archived form does not constitute a republication of the story.
Sandra Yi ReportingCapt. Tracy Tingey: "Apparently, this was in retaliation for being fired."
A disgruntled employee attacked his boss at a public park and the suspect is still on the run. It happened around 4:20 Sunday afternoon. The suspect hasn't been seen since.
Police are looking for Carmalo Diaz. He confronted his boss at Harmony Park. Police say the two argued, then he stabbed the victim with a folding knife. Police say he came looking for the his boss.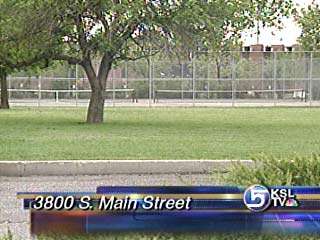 Capt. Tracy Tingey, South Salt Lake Police Dept.: "Yesterday while he was at the party, the suspect, this former employee that was recently fired, showed up."
The two began to argue about work. It got heated, then violent.
Capt. Tracy Tingey: "The suspect then pulled out a knife, which has been described as having a 4 inch blade, and stabbed the victim in the stomach."
The attack happened in broad daylight in front of the victim's family and friends, including children. They were at a public park celebrating a birthday.
Capt. Tracy Tingey: "Traumatic for everyone involved, but yes, for the children."
Police say, the victim is a painting contractor. Three weeks ago he fired the suspect, identified as 43-year old Carmalo Diaz.
Capt. Tracy Tingey: "We had numerous witnesses that identified the suspect. Why he chose that opportunity after being fired three weeks ago to do this, I have no idea."
But police say retaliation was likely the motive.
Capt. Tracy Tingey: "They seem to react in a violent manner towards either the boss or whomever, just as retribution. It just seems to be a really frightening thing that's happening in our society nowadays."
Carmalo Diaz is described as an Hispanic male, 5' 7", 190 pounds. He has gray hair, brown eyes and a goatee and mustache. He left the park in a 2003 green, Kia Sodona Van, with Utah license plate, 432 NAE. He's considered armed and dangerous, so if you see him, call South Salt Police or 9-1-1.
The victim is in the hospital in good condition.
×
Most recent Utah stories