Estimated read time: 2-3 minutes
This archived news story is available only for your personal, non-commercial use. Information in the story may be outdated or superseded by additional information. Reading or replaying the story in its archived form does not constitute a republication of the story.
Amanda Butterfield reportingA night of four wheeling fun turned dangerous for a group of teens in West Jordan. One of them found themselves trapped underneath their vehicle for at least a half an hour while his friends scrambled to get help.
The teen survived, though he is in critical condition this morning, recovering in the hospital.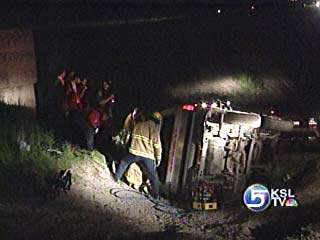 It all began in a remote part of West Jordan when two boys and two girls went out four wheeling.
The group ventured out in a full -sized Ford Bronco. The vehicle was going down a hill when it got stuck. Authorities believe it was probably high -centered and started teetering from side to side.
One of the teens got out to take a look and the truck fell on top of him. He was pinned from the waist down. The three remaining people inside the vehicle got out and one ran for help.
Sgt. Chris Hoffman/ West Jordan Police Dept.: "There was somebody close by that hooked up a winch and lifted the vehicle a few inches off."
That helped the victim a little, but he was still trapped.
It took emergency crews nearly 30 minutes to arrive. They say that's because the accident happened in a field in the middle of nowhere.
Sgt. Chris Hoffman/West Jordan Police Dept.: "We had a little bit of a difficult time locating the accident. The initial information we got was that it was close to 6200 South. Approximately right now, we're at about 7400 South."
The victim was still breathing and alert when crews finally arrived. They worked quickly to lift the heavy truck off the teen's legs. He was flown to Jordan Valley Hospital.
The victim, who's name has not yet been released, broke his leg and pelvis. He should be released from hspital in three days.
His three friends got out of the vehicle without any injuries.
×
Most recent Utah stories