Estimated read time: 2-3 minutes
This archived news story is available only for your personal, non-commercial use. Information in the story may be outdated or superseded by additional information. Reading or replaying the story in its archived form does not constitute a republication of the story.
(KSL News/AP)-- It's clean up time after a powerful storm blasted its way through Utah, shaking planes in the sky, and destroying property on the ground.
Thunderstorms packing high winds and a lot of rain roared through several parts of the Salt Lake valley Monday night. And there could be more. Spring storms could bring a whole new series of problems today.
High winds last night downed power lines. About 18-thousand Utah Power customers were without electricity at it's peak.
This morning, about 400 customers remain without power because of the storm. Crews are replacing wire in the downtown Salt Lake City area, where about 300 customers are without power. Another 165 customers in the south part of the Salt Lake Valley also don't have power back yet.
Another power outage this morning in Davis County was unrelated to the wind storm.
Damage from yesterday's winds left plenty of destruction behind, some of the worst right along I-15 at Point of the Mountain.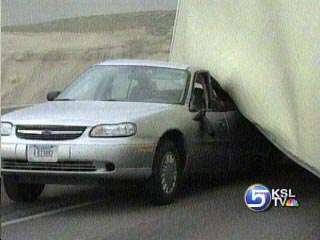 Winds shoved semi trucks across the freeway at the Utah -Salt Lake County border. In fact, one semi's trailer landed right on top of a passenger car. Everyone inside ended up being okay, but emergency crews say if the winds continue to act up, drivers could experience more problems.
Rand Andrus, Battalion Chief, Unified Fire Authority: "Be real careful if you're in this wind, because if you're in a small car or a lighter vehicle you can be tipping over as well, so be real careful. And watch out. We don't know if all those trucks are empty or didn't stop, so you could have one fall over on you."
In all, four semis tipped over on a half -mile stretch of the freeway. The interstate was shut down for a while.
In Salt Lake City, winds sent a tree right on top of a home!
Jeff Badley, Salt Lake City Resident: "It sounded like someone turned on a giant fan. I mean, huge. The sound was huge like crackling, like thunder and lightning. You could probably hear it a couple blocks away."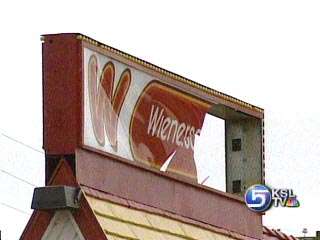 Nearby, winds downed several other trees and ripped apart business signs on North Temple.
The storms also transformed the Great Salt Lake, knocking water up against the shoreline.
And at Salt Lake International Airport, airplanes flew directly over runways before circling back and landing to avoid dangerous crosswinds and windsheer.
(The Associated Press contributed to this story)
×
Most recent Utah stories