Estimated read time: 2-3 minutes
This archived news story is available only for your personal, non-commercial use. Information in the story may be outdated or superseded by additional information. Reading or replaying the story in its archived form does not constitute a republication of the story.
Kim Johnson ReportingSome of the brightest minds in the science world awarded two Utah High School students big accolades and big money. The recognition came at an International Science competition.
These celebrated scientists from Riverton High have come up with an invention that might one day change the heating and cooling systems in automobiles. And for it they won a huge environmental science award from a prominent Japanese company.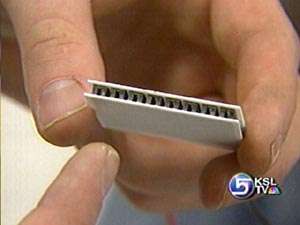 Back home in Utah, Daniel Winegar and Tyler Lyon look over the poster that motivated them to compete for the coveted Ricoh Sustainable Development Award last weekend in Arizona. The pair, who actually attend Riverton High, won 50-thousand dollars in scholarship money. It's welcome compensation for a lot of hard work.
Daniel Winegar: "A lot of time on weekends when we could be doing other things, working on this project, and it was fun to get recognition for it."
For the past two years Winegar and Lyon have been developing a way to put what's called the "Peltier effect" to use in automobiles.
Tyler Lyon: "We found that we could use this in an air conditioning system, and utilize it to make it more efficient and be more environmentally friendly."
Peltier chips are thermal electric chips, which use electrical current to move heat from one side of the chip to the other side.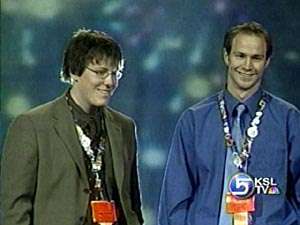 Tyler Lyon: "And when we move this heat it causes a cooling effect on the opposite side, so we're cycling air passed what's called the heat sync and it's collecting the absence of heat, or cold, and pushing it through a system. And it's the same effect the air conditioner has, but it has no freon. The only moving part in it would be the fan that moves the air."
Lyon says their method doesn't require gasoline or freon, just extra current. Their teacher says it's got great potential in the auto industry.
Kari Lewis, Physics Teacher: "They're going to have to get rid of the freon sometime. It's just killing our environment. They have to do something, and this is a very plausible, very cheap method of switching from one method to another."
Lyon and Winegar have applied for patent protection of their invention. Their teacher says she couldn't be more proud.
Kari Lewis: "To see them get ideas, and then take those ideas and then make them into reality is something very few students do, and it's what makes teaching fun."
Lyon and Winegar have been invited to present their project at the World Expo in Japan this summer. They'll use the 50-thousand dollars in scholarship money to further their education.
×
Most recent Utah stories