Estimated read time: 2-3 minutes
This archived news story is available only for your personal, non-commercial use. Information in the story may be outdated or superseded by additional information. Reading or replaying the story in its archived form does not constitute a republication of the story.
Richard Piatt ReportingHe's made his way up the political ladder, but the climb isn't easy. Former Utah Governor Mike Leavitt is now living a long way from home, in the nation's Capitol, with one of the most challenging jobs in Government.
Washington DC is a new world for Leavitt. He left Utah to head up the EPA first, that was one thing. But now, as the Secretary for Health and Human Services, there are more challenges, heavier issues, and less personal time than ever.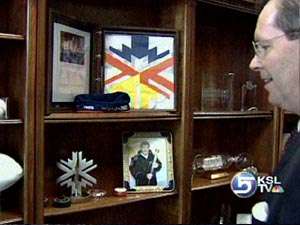 It's 8 a.m. and Mike Leavitt is on the move. At a Washington hotel he scurries through back hallways, escorted by a security team. Moments before a keynote address he scribbles notes, then hits the stage, aware that anything he says could be news.
Michael Leavitt, Secretary, U.S. Health and Human Services: "When I'm in Washington, I generally give one or two a day. There are a lot of meetings in Washington."
Then as quickly as he arrived, he leaves, getting on with a day that started at six and will probably end around 8 or 9. That's life for Utah's former Governor these days; he took the oath to it in January.
Deep in the Hubert Humphrey building Leavitt oversees one of the biggest government agencies in the world: 70-thousand employees, 300 different agencies, overseeing the nation's health and health care, a 642-billion dollar budget -- all are under Leavitt's control.
Michael Leavitt: "It's a big job and it's a remarkably weighty job."
Leavitt represents the President worldwide. As a cabinet member, he meets at the White House at least once a week. But when he's not in meetings or traveling, his office is a sanctuary to his roots.
Michael Leavitt: "It won't surprise you or anyone to know that the Olympics were an important part of my experience, and there's a lot of memorabilia. By the way, Steve Young was in yesterday."
Pictures in Leavitt's office are selected carefully; key moments with his family and special people. He even has a remnant of a painful memory: Neptune's head, recovered from the Governor's mansion fire.
Not far from Leavitt's office is this command center, equipped with monitors, maps, satellite feeds. This day the progress of a deadly flu overseas is being tracked. HHS tracks any natural disaster or outbreak seven days a week.
A rigorous schedule is shared by other Utahns: Rich McKeown and Natalie Gochnour followed Leavitt to HHS as key confidants in the department. All of them remember Leavitt's days as Governor fondly.
Michael Leavitt/Secretary: "That was a period of my life I will always cherish, and service I look back on with great fondness. I love the state of Utah."
As far as his future political goals, Leavitt isn't specific, yet. For the next few years he has his work cut out for him.
×
Most recent Utah stories