Estimated read time: 2-3 minutes
This archived news story is available only for your personal, non-commercial use. Information in the story may be outdated or superseded by additional information. Reading or replaying the story in its archived form does not constitute a republication of the story.
Nadine Wimmer Reporting There's a danger growing so quickly in Utah, it's raised concerns among health officials. Summer is a busy driving season, so here's an important tip to help your family Stay Safe.
Kim Babka, Mother: "There's nothing like knowing, as a mother, that you have inflicted pain on your son or your child."
Even after several years, Kim Babka can't overcome the emotion of hitting her young son Jackson in their driveway.
Kim Babka: "In a split second lives are changed. Every time I pull out of my driveway, I feel that."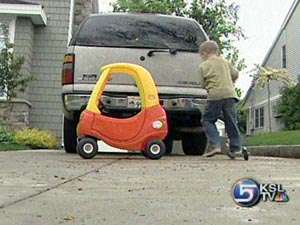 It's recently happened to two other families in their neighborhood alone, reflecting the dramatic increase in Utah. Fatalities from rollovers doubled in 2004. Utah is 5th in the nation. Alarming numbers like that have led child advocates and Primary Children's Medical Center to launch a statewide campaign.
Janet Brooks, Primary Children's Medical Center: "Currently, at least one Utah child is injured or killed from a back over each week. These statistics are staggering."
Dale Maughan, Paramedic: "It's a significant problem that seems to be growing in our area. And our goal as a task force is to increase the level of awareness in the public so these things don't happen again."
Part of the increase is attributed to a deadly combination--small children and big SUVs. In fact, according to consumer reports, if I'm driving an Avalanche, the blind spot behind my car is 50 feet. We measured it out. There's easily enough room for a child to play back there where I can't see him.
And coincidentally, while we were measuring out the distance, another mother reinforced the pervasiveness of this problem, not just in driveways. She saw it happen while someone was pulling out of their apartment complex.
Eva Garcia, Mother: "One of these days, it happened to my niece. Next time these kids are going to get hurt to the point where they end up in the hospital or dying at the scene."
To stay safe there's no better way than to walk around your car before taking off, whether from home, a neighbor's or a business. Have someone supervise the children as you're leaving and roll down your windows to hear children.
Kim Babka: "You can't see them and they don't understand that in a split second accidents happen."
Once you're out of the driveway, we have some information that can help you safely arrive at your destination. AAA and Parents Magazine released the top ten Family Friendly Cars, ranked for overall safety. At the top of the list is the Honda Oddysey.
Kara Gould, Mother: "We were in an accident backing out of our driveway in another car. And while we weren't hurt, you think about these things. Safety is important."
Tomorrow, we tried an experiment that could offer some insight into how kids will spend their summer.
×
Most recent Utah stories