Estimated read time: 2-3 minutes
This archived news story is available only for your personal, non-commercial use. Information in the story may be outdated or superseded by additional information. Reading or replaying the story in its archived form does not constitute a republication of the story.
Kim Johnson ReportingA woman who fled Cambodia and came to the United States is now the proud owner of new home. The home that didn't exist last week is now ready for a family of four, thanks to Habitat for Humanity.
As of today 34-year old Nisay Lao is living the American dream -- a dream that for so long seemed impossible.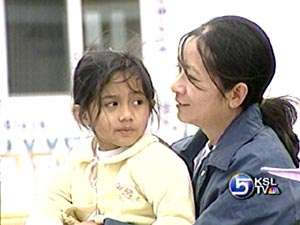 Nisay Lao: "I couldn't afford it with barely above minimum wage and three kids, single mom, that's so impossible. But with the blessing of Habitat for Humanity and the volunteers who put their heart and souls into helping less fortunate ones, I am able to own a home."
Home and family are particularly dear to this survivor of Cambodia's infamous "killing fields."
Nisay Lao: "I was four when I lost both of my parents, and I was placed in an orphanage until my uncle found me when I was six-years-old, and adopted me into his family."
She came to this country with her uncle and his family 24 years ago. This week she got to see a home of her very own be built from the ground up in three days.
Nisay Lao: "I would not believe it if I didn't see it with my own eyes. I came out here and I witnessed the beginning 'til the end, and it's magnificent."
Kelly Anderson supervised the "Blitz Build" for the Salt Lake Valley Habitat for Humanity. All the labor and materials were donated.
Kelly Anderson: "When they asked me to do it I was a little skeptical, but I know they do this year after year. And really, once we got and started Monday morning at six o clock everything just rolled, and everyone did exactly what they were supposed to do. And it wasn't as difficult as I thought it would be."
Anderson joined Lao for today's ribbon cutting, a celebration of giving and receiving. The Lao home is the third "Blitz Build" on a single street in Magna, and the 56th home completed by Salt Lake Valley Habitat for Humanity.
×
Most recent Utah stories