Estimated read time: 3-4 minutes
This archived news story is available only for your personal, non-commercial use. Information in the story may be outdated or superseded by additional information. Reading or replaying the story in its archived form does not constitute a republication of the story.
SALT LAKE CITY - Major construction work is now underway to link TRAXfrom downtown Salt Lake City to the airport. Crews began moving earth Wednesday along a corridor between I-80 and the airport's south end.
Before TRAX trains start moving out of the Airport TRAX Line, crews will have to move a lot of dirt—3,000 to 4,000 of soil will be used to build up the grade near the airport and stabilize the rail bed.
Project manager Matt Sibul said, "This will be completed, the embankment, by the end of this year. Then we're really going to start progressing from the airport towards downtown over the next three years."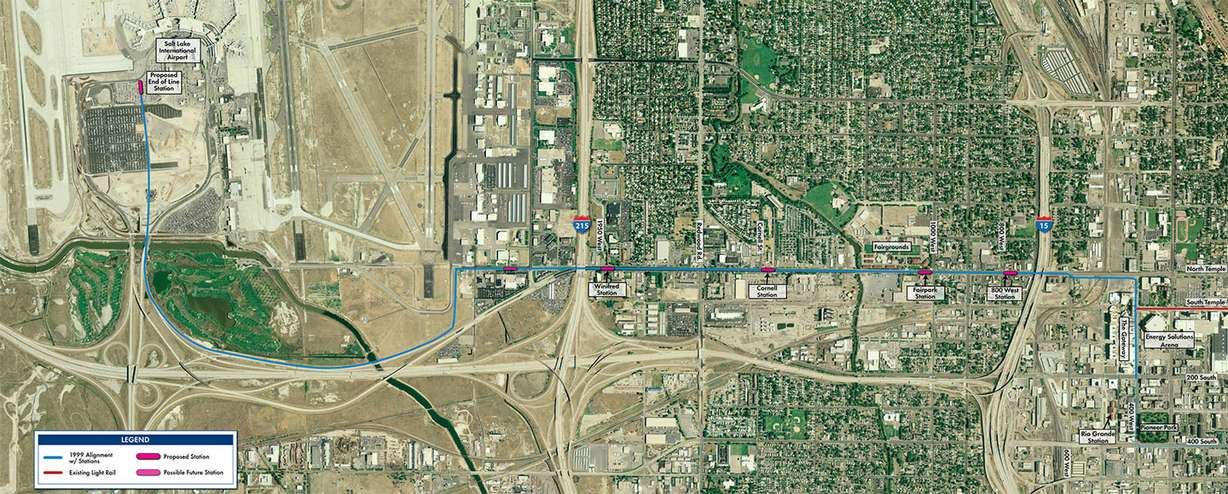 Construction crews have been working on North Temple for months, but that was all minor prep work.

UTA spokesman Gerry Carpenter said, "Now we're actually getting into the nitty gritty, where we're going to be preparing the grade for future track to run here along the airport access road."

**Did you know…TRAX Airport Line**

• should beging running in 2012 • will be six miles long • includes 5 stations along North Temple, 1 airport station:

o 500 West Station o 800 West Station o 1100 West, near the Utah State Fairgrounds o 1500 West Station o 1950 West Station o Airport Station, just east of Terminal One

• will run every 15 minutes • is projected to cost $250-290 million • has projected 14,000 daily ridership in 2030 -*[UTA](http://www.rideuta.com/projects/airportLightRail/default.aspx)*

The 6-mile line will connect to the existing line at the Arena Station, curve over to North Temple, and run out the center of North Temple to airport terminal one. "It will be about a 20 minute trip from downtown to the airport. So, very fast, very comparable to the auto," Sibul said.

During construction, UTA says it will do its best to maintain business access and remind people the businesses are open.

Simultaneously, UTA is working on four other lines: FrontRunner South, Mid-Jordan light rail, West Valley light rail, and Draper light rail.

"This is probably the one that's generating the most excitement. People love the idea of taking light rail to the airport," Carpenter said.

Early 2013 is the target for opening the line, possibly sooner.

"There are a lot of people excited about this new TRAX line, and we'll get it done as quickly as we can," Carpenter said.

Work will be done first at the airport then make its way west along North Temple until it gets to 400 West. But there's still a question over what will happen from there.

"The city would like to see a new North Temple viaduct if they can get some additional funding," said Sibul. "If that happens, we'd like to start construction on that in March of next year."

Sibul expects a decision soon, possibly within the next couple of weeks.

Regardless, TRAX trains will travel over a viaduct at 400 West and North Temple. If UTA builds its own viaduct, construction won't begin for another 16-18 months, according to Sigul.

The entire project is expected to be completed by late 2013 or early 2014, he said.

Compiled with information from Jed Boal and Marc Giauque

×
Related links
Most recent Utah stories