Estimated read time: 2-3 minutes
This archived news story is available only for your personal, non-commercial use. Information in the story may be outdated or superseded by additional information. Reading or replaying the story in its archived form does not constitute a republication of the story.
Tonya Papanikolas ReportingThe hayfever season is kicking into gear, but we're not talking about human allergies. That's right, your pets can also struggle with allergies, especially dogs.
If you head to a park for the day with your dog, you may not be thinking about the effect trees and grass can have on your pet. But if your dog has allergies, it can be a miserable day for them. Most dogs love to run around outside, but for Brittney, a Jack Russell Terrier, it's not as fun. She has seasonal allergies, which show up in her actions.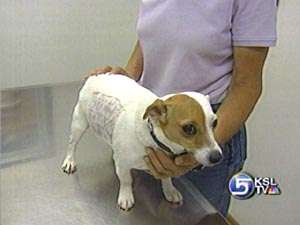 Debbie Smith, Dog Owner: "Chewing at her paws, scratching a lot, rubbing her body against the furniture."
Brittney's left eye is red from rubbing and itching it and she has an ear infection. Today she got allergy tested to find out the cause.
Debbie Smith: "We can start giving her allergy shots, just like they do humans."
One-year-old golden retriever, Lilly, also has allergies.
Krista Dunn, Dog Owner: "She just started itching in one area, and it got progressively worse and worse."
Lilly now has a sore behind her ear that will have to be treated with antibiotics.
Krista Dunn: "I never thought it would be allergies."
Dog allergies may sound unusual, but they're extremely common. Some dogs are more susceptible than others.
Dr. Thomas Lewis, Veterinary Dermatologist: "Any purebred dog is a little more prone, but we certainly see the highest allergies in golden retrievers, labradors, most of the terriers, sharpeis, cocker spaniels, bashans."
If you're looking for symptoms, watch out for constant ear infections. Some dogs can have respiratory problems, but the most common symptom is scratching and itching.
Dr. Thomas Lewis: "Some of them will scratch with their feet, but I always remind people some of them will scratch with their tongue. So in other words they're licking their feet or their legs."
It turns out Brittney was allergic to grass and cats. The vet told us sometimes dogs can even be allergic to humans. Food is also a common cause.
So what can you do if your dog is allergic? Start by bathing him often, you can try a medicated shampoo, and if the symptoms don't stop, make an appointment with your vet.
×
Most recent Utah stories