Estimated read time: 2-3 minutes
This archived news story is available only for your personal, non-commercial use. Information in the story may be outdated or superseded by additional information. Reading or replaying the story in its archived form does not constitute a republication of the story.
Alex Cabrero Reporting"It's exciting, but we don't need this much excitement in Tooele."
Most people head to lakes and rivers for the holiday weekend. In Tooele the water came to them. A water pipe broke this morning and water gushed into a Tooele neighborhood, but the city was ready for it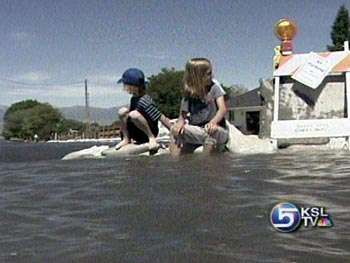 This is the kind of thing children can usually only dream about. You would too, if you were their age. 11-year old Alyssa McCormick thought her eyes went off the deep end.
Alyssa McCormick, Splishing and a Splashing: "I wanted to jump in it and play in it. It's fun!"
Mitch Gibson was confused too. He knows where water is supposed to be.
Mitch Gibson: "In rivers, lakes, and the Great Salt Lake."
But certainly not in the road.
No, this is Tooele City's crazy idea of protecting the neighborhood. But as crazy as it all looks, it's working, and Diane McCormick just had to have a new page for her scrapbook.
Diane McCormick: "This has never happened since we've been here, so yeah, I'm taking pictures of the kids."
But every now and then the kids had to get out of the water.
Diane McCormick: "They don't want the kids in it. I guess in case something happens, they don't want to be held responsible."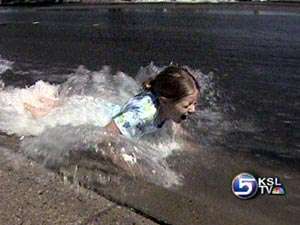 There's just something about water and children that combines into fun. But the main concern for police and city officials is, if more water comes down off the mountains, the water levers could get higher, and for young children that could be dangerous.
Mike McCormick: "The kids are gonna be right in the middle of it all the time. I probably will be before the day is over, as hot as it's getting."
Every now and then city workers had to put in more sandbags to control the direction of the flow. That only made some water pockets deeper, which if course meant a small swimming pool and parental supervision.
Diane McCormick: "It's fun. It's fun for them and as long as I'm out here, I don't care if my daughter is out with them at all."
It is a lot fun, one child was even riding his skateboard in the water pretending it was a surfboard. Not bad in a land-locked state.
The city says everything is under control, and they're ready for any emergencies. They're just asking for you to tell your children to be careful.
×
Most recent Utah stories