Estimated read time: 2-3 minutes
This archived news story is available only for your personal, non-commercial use. Information in the story may be outdated or superseded by additional information. Reading or replaying the story in its archived form does not constitute a republication of the story.
John Hollenhorst reportingHeavy rains have made a big mess in Draper. Many homes have had water problems, and a number of them with flooded basements.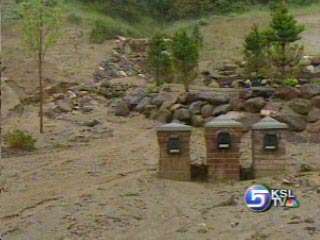 A landscaping wall has been acting like a dam, holding water back, and crews are busy draining water and debris from behind it, so that they can continue to use it to contain the flooding. If it gives way, that could be more trouble for homeowners down the hill.
The mountain slopes could not contain the heavy runoff this morning. It created channels wherever it could. In one case, it carved a trench down a road that came down off the mountain, flushing mud and debris out onto a residential street.
Homes in the area were hit with water that was flowing like rivers around foundations and basement windows.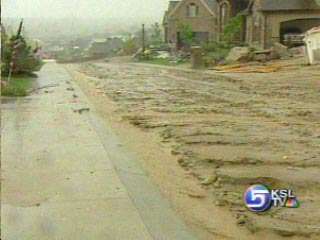 In one home, water piled up in the window wells, finally shattering the window glass, and pouring two feet of water into the home.
Jared Holland, homeowner's Son-in-law: "My wife and I were just standing here watching the waterline just go up faster than you can fill up a tub. When it got to the very top, just a few seconds later, it just shattered, and all the glass came through, and every window shattered at once.
Matt Howell, Draper Resident: "Well we live just at the bottom of the mountain and this whole subdivision is just receiving an awful lot of water. This is the low point in the neighborhood and it's just collecting here in basements and houses."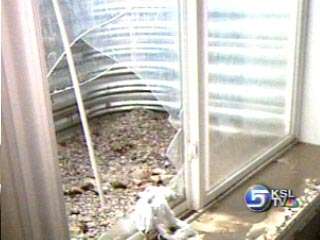 Firefighters and volunteers did everything they could to stem the tide, using sandbags, pumps, shovels and hoses. Volunteers we talked to say their phones started ringing early this morning, and they jumped into action, sometimes not even knowing the people they were helping.
We don't know how many homes were flooded. But there are several that we know of. The hope is that the worst of the rain is over, and the cleanup can get started in earnest.
×
Most recent Utah stories