Estimated read time: 2-3 minutes
This archived news story is available only for your personal, non-commercial use. Information in the story may be outdated or superseded by additional information. Reading or replaying the story in its archived form does not constitute a republication of the story.
John Hollenhorst ReportingJohn Patterson, S.L. County Public Works Director: "We do have employees though that will be adversely impacted. So I will meet with them tomorrow in an effort to explain our current condition."
Bad news for workers at the Salt Lake County landfill -- there's a budget crisis. The reason will surprise you: there's not enough garbage!! There's no shortage of garbage and trash being produced in Salt Lake County, there's more than ever. But the landfill is losing trash to the competition, apparently because of inefficiency in county government.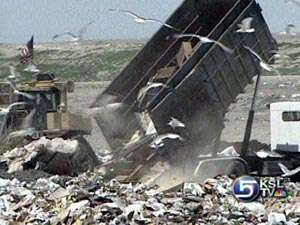 County officials strongly denied one rumor that's making the rounds. They say they have no plans to sell the county landfill. But they are experiencing a drastic drop in dumping at the landfill. Private companies are fighting for a share of the trash business and they're winning.
It used to be that Salt Lake County government had this business pretty much to itself, dumping and burying the stuff we throw away. But in recent weeks others have launched a grab for the garbage.
John Patterson: "We're going to experience a 50-percent reduction of waste stream revenue by the end of this year. That's pretty dramatic."
Half the garbage supply is jumping ship, going to private companies. One facility was opened by Metro Waste just three weeks ago. They separate the valuable stuff -- cans, cardboard, metal and the like -- and recycle it.
Dick Chatterton, Metro Waste: "We went to various haulers around the city and all them wanted to participate in the recycling effort. So we asked them to join in and bring their waste here."
What they can't recycle, they squeeze into bales, saving roughly three-fourths of the landfill space. They truck the bales to their own private landfill 70 miles away on the Skull Valley Goshute Indian Reservation.
Dick Chatterton: "This is an example of efficiency. If you do things right it can save landfill space and you can make a profit at it."
Another company is building a competing landfill on the west shore of the Great Salt Lake and expects to make money even with long-distance hauling costs. One industry official told us private business can run a landfill with one-third to one-fourth the workers Salt Lake County uses.
John Patterson: "I think we can be more efficient than we currently are."
Sixty people work at the county landfill. Some are about to lose their jobs.
John Patterson: "We're looking at a number of alternatives. Obviously we have to reduce costs. And any time you talk about costs reduction, you talk about personnel."
This may be good news, though, for everyone who disposes of trash. The competition is holding down prices, probably for years to come. And the county landfill has a new lease on life; instead of filling up in 25 years, it should last 50 years or more.
×
Most recent Utah stories