Estimated read time: 2-3 minutes
This archived news story is available only for your personal, non-commercial use. Information in the story may be outdated or superseded by additional information. Reading or replaying the story in its archived form does not constitute a republication of the story.
Amanda Butterfield reportingDanger at high speeds in Salt Lake County as police, sheriff's deputies and state troopers from around the valley work together to arrest a high speed chase suspect.
The suspect, 20-year-old Cory Mendenhall, being held in the Salt Lake County jail, awaiting charges.
At least seven agencies were involved in this overnight chase. State troopers, Salt Lake County sheriff's deputies, and several police agencies worked traffic control to keep streets open so no one would get hurt.
It all started around 1:00 this morning in a Taylorsville apartment complex. Police say they were patrolling the area due to several reports of stolen cars. An officer spotted a suspicious white truck in the apartment complex.
The officer says when he tried to approach the 20 year old driver inside the truck he sped off, sparking a chase with officers.
The suspect drove all over the valley on I-15, Bangerter Highway, and even on city streets. Speeds reached up to 100 miles an hour.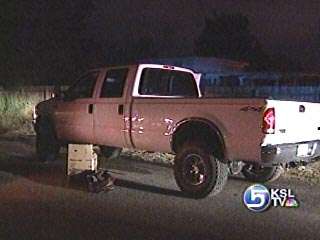 At one point, when officers tried to talk to the man and put a spotlight on his truck, police say he revved his engine and aimed his truck directly at police, attempting run the officer down.
Scott Miller/ Taylorsville Police Dept.: "When that effort was made, the subject started swerving towards the patrol unit, made very aggressive actions that in our estimation is an aggravated assault."
Fortunately, that officer wasn't hurt.
Eventually, the driver pulled over on 9950 South and 350 East and jumped out of the truck. He was spotted hiding in some bushes a few feet away.
Investigators say the truck he was driving was stolen from a car dealership in American Fork. They also say they're happy to have a dangerous driver off the streets, and they wouldn't have been able to do it without help.
Scott Miller/ Taylorsville Police Dept.: "It's very gratifying to know that we can count on our fellow officers from the other agencies."
The suspect is now in jail, facing charges of evading police, and aggravated assault. He will also be charged with possession of a stolen vehicle. The white truck was stolen from an American Fork car dealership.
×
Most recent Utah stories