Estimated read time: 3-4 minutes
This archived news story is available only for your personal, non-commercial use. Information in the story may be outdated or superseded by additional information. Reading or replaying the story in its archived form does not constitute a republication of the story.
SALT LAKE CITY (AP) -- It's become a seller's market for real estate in certain Salt Lake City neighborhoods, with buyers bidding against each other at thousands of dollars above the asking price.
Homes in places like the Avenues and Sugar House are bringing selling prices not seen in a decade, fueled by low interest rates and Utah's strong job growth.
But the boom is not limited to Salt Lake City. The Wasatch Front Regional Multiple Listing Service reports selling prices in a number of communities were 10 percent higher during the first quarter of this year compared to 2004.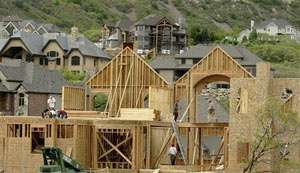 Mike and Pam Mackey got three offers the same day the put their Sandy home on the market, and wound up selling for $8,700 more than they asked.
They used that knowledge when making an offer an another house. Their bid was also one of three, but they won out by quickly raising their offer by $7,000 above asking price.
"I knew what I had to do to get the deal done, so I did it," Mike Mackey said.
Not only are houses going for much more than the listed price, the homes are selling much quicker, too, in some cases within minutes of a "For Sale" sign going up in the yard.
"I've never seen it this crazy and I've been doing this for 31 years," Realtor DeAnn Densley told The Salt Lake Tribune.
And since there appears to be no end in sight to the rising prices, David Shirley of Salt Lake City said it was time to buy.
He lost one bidding war on a house in the Avenues, a neighborhood sought for its stately older homes south of the state Capitol. But he offered a seller the asking price during a tour of another home, and it was accepted.
"I'm just glad we don't have to keep looking and looking at homes for months," he said.
And that's exactly what Jason and Maura Fowler are doing.
They have been looking for new homes in the Sugar House area for months, but have been outbid five times so far for a home in the 15th and 15th neighborhood, coveted for its quaint bungalows and quiet, tree-lined streets not far from downtown.
"This is absolutely insane," said Maura Fowler. "We're making offers at least $10,000 above the asking price and we're still being outbid."
The couple sold their home in the Liberty Park area within days, and have to be out after next month's closing. Maura Fowler, due to deliver the couple's first child in November, hoped to have a new nursery decorated by late summer. Instead, the couple may have to rent a house or apartment until they find a home.
And they will have to pay more than the $250,000 to $300,000 they initially thought. They are now considering homes up to $350,000 and nightly monitor the market with their real estate agent.
"It's become quite the game now -- trying to find something before someone else gets there first," Maura Fowler said. "Sooner or later, we've got to win."
(Copyright 2005 by The Associated Press. All Rights Reserved.)
×
Most recent Utah stories