Estimated read time: 1-2 minutes
This archived news story is available only for your personal, non-commercial use. Information in the story may be outdated or superseded by additional information. Reading or replaying the story in its archived form does not constitute a republication of the story.
Shelley Osterloh ReportingResearch shows that we all want to avoid thinking about cancer until we or someone close to us is diagnosed with it. And at that moment we want to find everything we can about it.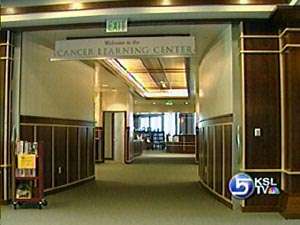 And when the need arises, you can find a helpful resource at the Huntsman Cancer Institute. You can access the wealth of information online, or you can check out books, video tapes or audio disks.
Donna Branson, Education Dir., Huntsman Cancer Institute: "When Jon Huntsman, who is our founder, was diagnosed, he wasn't able to find the information that he needed. So he said that when we set up the Huntsman Cancer Institute we're going to have a place where people can find information about cancer. So that's why we're here."
Staff workers say providing this free service to people who need it is very rewarding.
Donna Branson: "Knowing that we're helping people at a critical time in their life for all of us is very important, and the payoff is immense just knowing that you've been able to help someone."
As you might expect, the largest percentage of calls come from those who have been diagnosed with cancer. Only 4% are from those seeking screening information, risk factors, prevention methods. Branson stresses, being armed with credible information is first step in gaining control.
Donna Branson: "Knowledge is power. So knowing that, more about your disease, more about your treatment options, helps to make you a player in your diagnosis and in your treatment."
Once a year the Huntsman Cancer Resource Center publishes a community cancer guide that lists all the support groups available in the state. That's also available free by calling, going online, or visiting the center in person.
×
Most recent Utah stories