Estimated read time: 2-3 minutes
This archived news story is available only for your personal, non-commercial use. Information in the story may be outdated or superseded by additional information. Reading or replaying the story in its archived form does not constitute a republication of the story.
Keith McCord Reporting How would you like to be given 50-thousand dollars to start up a business, even though you had no idea what business you'd create, with no strings attached? We didn't believe it when we first heard about it, but this is the real deal.
Two experienced entrepreneurs have put up a total of $500,000 of their own money, and then they selected 10 very energetic, highly motivated college students to develop products or businesses of their own choosing. And the word "failure" isn't even in their vocabulary.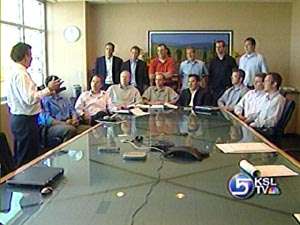 Greg Warnock and Alan Hall are experienced entrepreneurs. Over the years they've lost a lot of money, and made a lot of money, in various business endeavors. They've developed a program to give the young people with the same ambition a "nudge" to become future entrepreneurs.
Alan Hall: "These are young people with a great deal of passion and drive in them. They will succeed no matter what!"
They created what they call the "Junto Entrepreneurship Program". They work with Utah's colleges and universities each year to select a group of business students with never-ending "can-do" attitudes.
Greg Warnock: "They can pursue any business that interests them personally. We try to give them guidance as to where we think the most promise is, based on our careers and experience, but the ultimate decision is their own."
And on top of that, each student has access to a safety net of 50-thousand dollars.
Greg Warnock: "We have just set it aside, and they just call it when they need it."
The students work together in groups of five. Each comes up with a plan or idea, and they all collaborate to try to make the idea work. But the catch is, they only have access to the money for 18-months.
Shane Willard, Weber State: "If our business model that we're following isn't successful per se, we've got to drop it and get another one and move on."
So they must work quickly, and not everyone chosen for this opportunity has an idea nailed down yet.
Rhett Frandsen, Westminster: "I'm scared to death, I am. But we've been given all the tools to succeed, and we have an incredible support network."
Brock Blake, BYU: "It's a little intimidating sometimes, but it adds excitement and adds pressure for us to be able to build something and create something, and because they believe in us."
Some of the businesses these guys come up with will fail-- that's expected. Others will make it. This program that Alan Hall and Greg Warnock started is only two years old. The hope is that the successful businesses will help future programs and the next batch of entrepreneurs.
×
Most recent Utah stories