Estimated read time: 2-3 minutes
This archived news story is available only for your personal, non-commercial use. Information in the story may be outdated or superseded by additional information. Reading or replaying the story in its archived form does not constitute a republication of the story.
Keith McCord ReportingIf you've been out to the airport to pick somebody up, you know that you can no longer go to the gate to meet them because you aren't allowed through security. We'll, that's created a demand that the airport is now going to address – food, books, magazines, souvenirs.
The airport is undergoing a big renovation project, both outside and inside the terminals.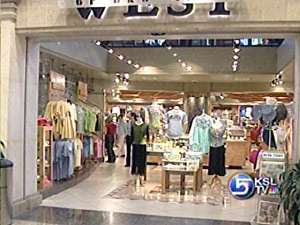 At Salt Lake International Airport, and many others around the country, there are the "haves" and the "have-nots". On one side of the security checkpoint the "haves" can shop for clothing, jewelry and gifts; or pick up a book or newspaper, with numerous places to eat. On the other side of security, the "have-nots"-- those who wait for friends and relatives to arrive-- have only a few vending machines to choose from.
Thomas Crismon, CEO Air Terminal Gifts, Inc.: "After the 9-11 situation took place, it became obvious that there would be a separation, a division, and that wasn't going to change, so…"
And so, the airport will adapt. Starting July 1st construction will begin on two new convenience stores, one in each terminal. They'll be located near the baggage carousels.
Thomas Crismon: "If you come out here at certain times of the day-- yesterday about noon there were about 500 people out here in this area, so there definitely is a demand."
Air Terminal Gifts, Inc. put in the very first gift shop and newsstand at the airport back in 1961. The third-generation family business now operates 14 stores; the two new ones are scheduled to open in September.
To make room for the new store and extra seating in terminal one, they're going to take out the first two baggage carousels and move them to the other end. Other modifications will take also take place in these areas to alleviate congestion.
The name of the new stores is "On the Fly Urban Market". With food, drink, and gourmet coffees it should make waiting for that late-arriving plane much more pleasant.
×
Most recent Utah stories