Estimated read time: 2-3 minutes
This archived news story is available only for your personal, non-commercial use. Information in the story may be outdated or superseded by additional information. Reading or replaying the story in its archived form does not constitute a republication of the story.
Ed Yeates ReportingUtah researchers have discovered a maturity gene that at some point in growth suddenly says, "okay it's time to quit being a juvenile and mature into an adult." Scientists discovered that if young fruit flies don't have it, or it's tampered with, they don't grow up.
University of Utah researchers have found a key, which just might now help scientists find and better understand the pathway that transforms a juvenile into the beginnings of adulthood.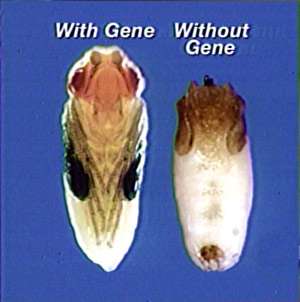 Dr. Carl Thummel, University of Utah Human Genetics: "You just have to think about it for a minute, yeah. There's this time frame, the kids are growing, they're cute and sweet and then suddenly, bang - the hormones hit."
Dr. Carl Thummel and his colleagues in human genetics found the gene in fruit flies. It interacts with other genes, triggering commands that send what has been a juvenile fly into a spectacular transformation, called metamorphosis.
Puberty and adolescence is our metamorphosis, something researchers would like to know more about.
Dr. Carl Thummel: "Use the insect as a model, trying to study this in real detail, put the pieces together and then build a foundation of how it might work in people."
So what happens if this gene is disabled or missing?
Dr. Carl Thummel: "In a human, if a similar syndrome were to evolve, it would mean they would be locked in the juvenile stage of their development."
But if you think that could keep you young, alive and adventurous - sort of like Peter Pan - look what happens to the fruit fly. Without the gene the head of the fruit-fly never pops out of the body.
Timing is also important. Juveniles that matured too early died, because the same gene must trigger again later to carry out continued maturation.
Still, understanding how and why this gene does what it does could lead to possible treatments for numerous growth and hormone disorders.
×
Most recent Utah stories