Estimated read time: 1-2 minutes
This archived news story is available only for your personal, non-commercial use. Information in the story may be outdated or superseded by additional information. Reading or replaying the story in its archived form does not constitute a republication of the story.
Carole Mikita ReportingRagtime music and a Tony-award winning script are played out on stage at Hale Centre Theatre. Carole Mikita has the story of one young performer who has found a way to balance his day job with a passion for entertaining.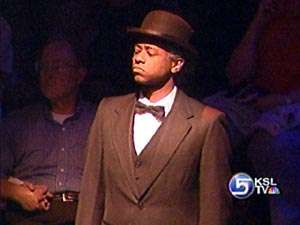 Michael Morris looks the part of a public relations man--briefcase, well-tailored suit, but there is that distinct bounce to his step.
Michael Morris, 'Ragtime": "I was five-years-old when I started dancing. And my parents started me because they got me tested and they were told that I had no motor skills, and that if I didn't start doing something, taking dance classes or movement classes, that I would be horribly uncoordinated."
He loved it all the way through college where he studied dance, voice and acting. He has a degree from Harvard, something he has in common with one of the characters he plays in Hale Centre Theatre's production of 'Ragtime'. Booker T. Washington was awarded a Harvard degree.
Michael Morris: "Booker T. Washington, being such a pivotal figure in American History, and being such a great example of what people can do if they work hard, I mean, he was born a slave and rose to great prominence."
The Tony Award winning 'Ragtime' joins historic figures with fictional characters at the turn of the 20th century when America was becoming a melting pot. Cultures clashed and Morris says, unfortunately, that is what makes this show timely.
Michael Morris: "Unfortunately there is still racism. We still do have hatred and voilence."
But Morris says he's grateful to join his fellow actors who hope their production brings them and their audiences one step closer to overcoming differences.
"Ragtime" plays Mondays through Saturdays at Hale Centre Theatre in West Valley City at 7:30, through July 23rd.
×
Most recent Utah stories