Estimated read time: 2-3 minutes
This archived news story is available only for your personal, non-commercial use. Information in the story may be outdated or superseded by additional information. Reading or replaying the story in its archived form does not constitute a republication of the story.
Keith McCord reportingMany kids spend hours on Playstation, X-Box and Gameboy. Chances are their favorite games involve guns or violence, they're the big sellers.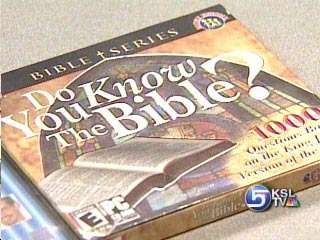 But a Utah County man hopes to dent the growing video game market.
A few weeks ago in Los Angeles, hundreds of thousands of video game enthusiasts got to see-- and play-- the latest games at the Electronic Entertainment Expo. Every new game, from every company was on display.
Les Pardew from American Fork was there too. His company has a brand new game.
"Who wrote Romans - Paul. What did the queen of Sheba bring to Solomon? Gold."
Les and his partners have created "The Bible Game", for the "Gameboy" handheld unit. A major publishing company, which will market it, displayed it at the L.A. Expo.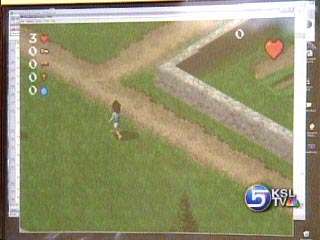 Les Pardew, President, Alpine Studios: "Bt there was a lot of people who came over and looked at it, and said this is different. This isn't like everything else here, this is different."
As an artist, Les has worked on hundreds of video games over the years, and he's done them all, including the war games, violent games.
But a few years ago, he made a big decision:
Les Pardew, Pres. Alpine Studios: "I don't know that I can do this any more. You know I need to think about what it is I'm creating and take some responsibility for it."
So meet "Jenny" and "Billy, characters in The Bible Game. Les and his partners Ross Wolfley and Scott Pugh created the adventure game for children--though adults can play it too. The idea: Travel through various worlds, and capture pieces of the Armor of God. Answering bible-themed questions is key.
Ross Wolfley, Partner, Alpine Studios: "Yeah I've read the old testament twice in the last couple of months!"
Ross Wolfley read The King James Version and the New International Version, to come up with 2,000 questions for the game. No, you don't need a bible handy, clues are provided along the way.
So will this sell? Pardew admits there are skeptics, but says Christian-themed entertainment is growing.. and he adds:
Les Pardew, Pres. Alpine Studios: "In the 18-years of doing video games, and going to these shows, it's the first time i've gotten requests for interviews."
The Bible Game will hit the stores in September.
Alpine Studios has been contacted by other marketing companies to develop other family-oriented games.
×
Most recent Utah stories