Estimated read time: Less than a minute
This archived news story is available only for your personal, non-commercial use. Information in the story may be outdated or superseded by additional information. Reading or replaying the story in its archived form does not constitute a republication of the story.
(KSL News) Police are investigating a hit and run at a Denny's Restaurant on 250 West and 500 South.
It happened at about 2:30 this morning.
One witness says the suspect and a few other girls were fighting at a bar before it happened. He says when the suspect got into her car, she aimed it at another girl, floored it, but hit a van first, instead.
As, to the extent of her injuries...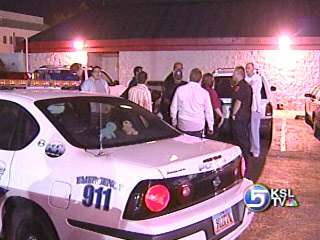 James Andrews/ Witness: "I think if it wasn't for that van, she'd be dead." "She had at least 16 feet of clearance between her and the other vehicles in the parking lot, and she intentionally swerved to hit that girl."
He says the suspect backed up, hit another car with enough force to move it several feet, ran over a median, floored it and took off.
If police do find the suspect, she may be charged with aggravated assault, running into a vehicle and leaving the scene of an accident. The victim is being treated at the hospital.
×
Most recent Utah stories