Estimated read time: 2-3 minutes
This archived news story is available only for your personal, non-commercial use. Information in the story may be outdated or superseded by additional information. Reading or replaying the story in its archived form does not constitute a republication of the story.
Nishi Gupta reportingTerry Goddard, Attorney General of Arizona: "This is the first time in my knowledge that we've had a witness willing to step forward and say this is what happened to me, I was sexually abused."
Charges have been filed in Arizona against a polygamist leader, and Utah officials seem ready to help.
A sixteen-year-old girl told Arizona authorities she was raped by a 28-year old man, a person she was forced to marry in her polygamous group.
The marriage was arranged by Warren Jeffs, the leader of the polygamous Fundamentalist Church of Jesus Christ of Latter Day Saints.
State authorities have been keeping an eye on Warren Jeffs and the FLDS church for some time now. So when this girl came forward, Jeffs was charged with conspiracy to commit sexual conduct with a minor.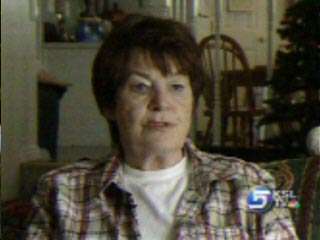 When Rowenna Erickson heard the news, she was thrilled. It was something she'd been waiting to see for 13 years.
Rowenna Erickson, Tapestry Against Polygamy: "Polygamy is one hundred percent sexual abuse. Not only are our children molested or raped daily, but it's sexual abuse to a wife to have her husband having sex with all of these women. And of course they use religion as a guise to justify why they're doing it."
Erickson can relate to the girl, she was a member of the Kingston polygamous group for 54 years. She left in 1992 with her eight children after deciding she'd been mislead about the religion.
Rowenna Erickson, Tapestry Against Polygamy: "Your life was invested in something that was not true, and you lived it because you thought God wanted you to, but it was these men, these leaders."
Leader Warren Jeffs has been charged by Arizona's Attorney General for the forced marriage, but first has to be found.
Terry Goddard, Attorney General of Arizona: "For the last six months, no confirmed sightings of Warren Jeffs that we're aware of, so finding him is going to be very difficult."
He is believed to be hiding in a newly built FLDS church compound in El Dorado, Texas.
Authorities have turned up the heat: Utah has seized the FLDS trust fund rumored to have 100 million dollars and Arizona has served search warrants on schools that provide income for FLDS members.
×
Most recent Utah stories