Estimated read time: 2-3 minutes
This archived news story is available only for your personal, non-commercial use. Information in the story may be outdated or superseded by additional information. Reading or replaying the story in its archived form does not constitute a republication of the story.
Coco Warner ReportingTemporarily losing a home to a fire would be devastating for anyone. Now imagine trying to cope in that situation with a family of 22.
They say a mother's work is never done, and in the case of Holly Richardson, it probably never is. Holly and her husband Greg have four biological children, two with severe disabilities. They've also adopted 16 other children from the U.S., Ethiopia, Kazakhstan, Romania, Russia, and Guatemala. The kids range from one year to 18.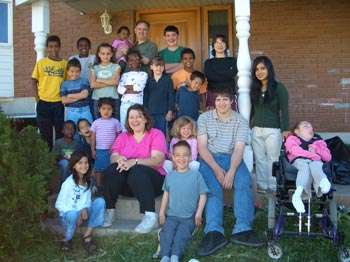 And if that wasn't challenging enough, on May 14th, while Holly and Greg were out celebrating one of the kid's birthdays, one of the boys accidentally started a fire in a storage room.
Holly Richardson: "We hadn't even gotten to where we were going, we were going down into Provo and got a call from our teenage daughter and she said the smoke detectors are going off and it's not dinner."
Holly says the night of the fire most of the family was back in the kitchen, but it actually took firefighters nearly a half hour to figure out that the point of origin for the fire actually started down in the basement.
Holly Richardson: "And then we went to a hotel for about ten days and then Memorial Day weekend everybody was full so we didn't have a hotel room, so we camped out in our backyard."
Holly says her friends and neighbors have been so generous, providing clothes, food and housing. And housing a family this size is no easy task. But there are benefits.
Daynia Ruth, Housing Richardson Family: "But my boys love it. My two little boys, five and two year olds, they think they are in heaven having so many playmates."
And that appears to be the biggest bonus of being a part of such a big family, house fires aside, there's never a dull moment.
Joshua: "There's always someone to play with."
And most everyone agrees that chores are the worst part.
Ammon: "Put away the Legos."
Putting away Legos can be tough, but everyone needs to do their part in a family of this size. And now their neighbors want to do their part to help the Richardsons. They're organizing a volunteer effort to remodel the home and landscape the yard.
Tracy Gillman, Neighbor: "Because of the fire, we just saw a window of opportunity where we could help this family, make it wheelchair accessible, make the modifications we need for their kids that are handicapped and bring them a yard."
And even though it's been difficult to be out of their home, Holly says everyone is hanging in there, proving home really is, where these hearts are. The Richardsons' neighbors say they hope to host a homecoming for the family by the end of July.
×
Most recent Utah stories