Estimated read time: 2-3 minutes
This archived news story is available only for your personal, non-commercial use. Information in the story may be outdated or superseded by additional information. Reading or replaying the story in its archived form does not constitute a republication of the story.
(KSL News/ AP) -- A man shot his estranged wife three times through a car window, critically wounding her, and then took his own life, Salt Lake County sheriff's officers said.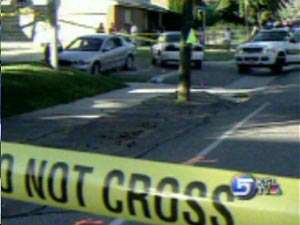 The shooting occurred about 6 p.m. Monday, at the intersection of Holly Lane and Murray-Holladay Road in Holladay.
Witnesses say the 46-year-old husband, Garth McClure, was in his own car, and his wife, 42-year-old Carrie McClure and their 8-year-old daughter, in another car. The husband rammed his wife's vehicle, then yelled at her to get out of her car. When she didn't, he fired three shots through the drivers side window, hitting his wife in the torso. He then shot himself in the head.
There were numerous witnesses who saw the whole incident, including the 8-year-old daughter. The daughter may have been the first to call police. She was in the car but was not injured, but witnesses describer her as "hysterical".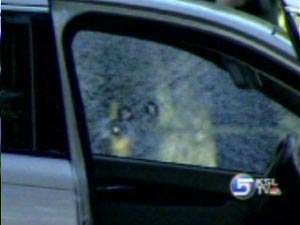 Casey Snow, witness: "All I saw was just the guy standing on the corner over there, and he grabbed his stomach, and I heard a pop, and he fell to the ground."
Caitlin Corfew, witness: "I saw her get out of the car. I couldn't imagine that, I would be just, terrified."
Officers said the woman, who was in surgery late Monday, had a protective order against her husband.
They said the man had assaulted her in the past and three years ago kidnapped her. Charges of domestic rape three weeks ago were in the process of being filed.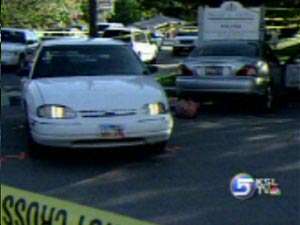 Paul Jaroscak, Salt Lake County Sheriff's Office: "She has done everything, to our knowledge, to protect herself. But again, we do have a history of were he has assaulted her rather violently, and after a period of time, she has gone back with him.
Deputies responded to an altercation at the couple's home, just weeks ago.
Sgt. Paul Jarocsak, Salt Lake Co. Sheriff's Dept.: "Two or three weeks ago, we were notified that there was a problem at their residence. We responded. That ultimately led to a domestic rape case being filed. He was booked into jail and bailed out the next day."
Police say on the more recent charges, McClure was in jail for about 36 hours. Detectives pushed for a higher bail to be set,out of fear McClure would lose control, but that effort failed, and McClure was able to post bail and get out of jail.
Carrie McClure was in critical condition following surgery.
(The Associated Press Contributed to this story)
×
Most recent Utah stories