Estimated read time: 1-2 minutes
This archived news story is available only for your personal, non-commercial use. Information in the story may be outdated or superseded by additional information. Reading or replaying the story in its archived form does not constitute a republication of the story.
(KSL News) -- A hostage standoff between a truck driver and SWAT teams ended safely in Orem.
It started when Bruce Wilson pulled his semi truck off I-15 in Orem yesterday. The trucking company sent a tow truck out, thinking the semi was damaged.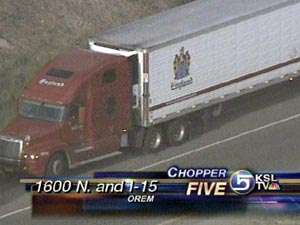 When the tow truck driver pulled up he found Wilson inside the truck. He said Wilson was acting strange and appeared to be suicidal.
Keith Allred, Hostage: "He asked me if I wanted to go to a better place with him."
That tow truck driver then called police. State troopers and SWAT teams tried to negotiate with Wilson, but he refused to come out.
After some time, UHP says Wilson decided to come out on his own.
Lt. Kenneth Peay, Utah Highway Patrol: "He came out the driver's side door, and just walked across the truck and laid on the ground."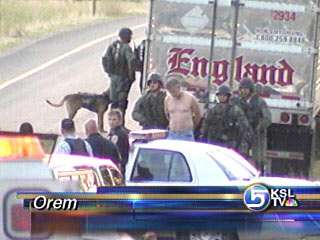 State troopers say Wilson had pulled off the freeway because he'd lost his job with CR England. Authorities say he's actually done this type of thing once before in California.
One officer was injured when he was bit by a trained dog; the K-9 acidentally bit the officer instead of Wilson when he came out of the truck. Aside from that, state troopers say this standoff ended safely.
Wilson is now in jail awaiting charges.
×
Most recent Utah stories