Estimated read time: 2-3 minutes
This archived news story is available only for your personal, non-commercial use. Information in the story may be outdated or superseded by additional information. Reading or replaying the story in its archived form does not constitute a republication of the story.
Sandra Yi reportingAnthony Ruiz: "I just hope they catch these individuals, so that it's one less threat out there."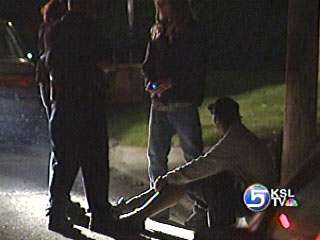 The search continues, for a hit and run suspect. The victim says the driver intentionally hit him.
It happened around midnight. The car was last seen heading east on 600 North, and may have gotten on I-15.
But witnesses got an excellent clue that may help solve this case.
The victim was crossing a street in the Avenues, when he saw a dark car coming around the corner with its lights off. He says, when he tried to get the driver's attention, he became a target.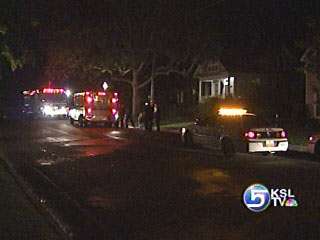 Anthony Ruiz, Hit and Run Victim: "They had their lights off, and I waved at them, so they would get their lights on and not hit anybody."
But his good deed, backfired. In fact, Anthony Ruiz soon found himself, in the path of danger.
Anthony Ruiz, Hit and Run Victim: "Once they saw me, they immediately turned their lights on, and they accelerated just to hit me, just to clip me, and they sped off."
He wasn't hurt, but the impact knocked his shoe off and threw it 50 feet away.
Anthony Ruiz, Hit and Run Victim: "I was blessed, I would say. I mean, my head could have hit the curb, things could have been worse. It's just insane that people can be that evil, for absolutely no reason."
Witnesses couldn't believe what they saw.
Robert Peterson, Witness: "I saw the car swerve into him, simple as that."
Robert Peterson was walking home and saw it all. He says it was no accident.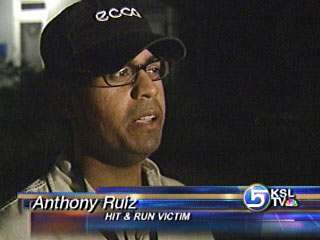 Robert Peterson, Witness: "They were driving where they should be on the road, went over on the sidewalk, so i could tell it was on purpose."
He chased after the car, and got license plate number. For that, Anthony Ruiz, is grateful.
Anthony Ruiz, Hit and Run Victim: "Hopefully they can catch them before anybody else gets hurt. The next person might not be so blessed, or as lucky."
Hit and Run Car
2000 Black Honda Civic
2-door
License Plate: 522WUB New information about the suspect's car: Police say, it was reported stolen out of Orem on June 10th. It's a 2000 Black, Honda Civic, a 2-door, with license plate 5-2-2-W-U-B. Witnesses say they saw two people inside. Police believe Ruiz was a random target, and that he did not know the suspects. If you have any information on this case, call Salt Lake City Police.
×
Most recent Utah stories