Estimated read time: 2-3 minutes
This archived news story is available only for your personal, non-commercial use. Information in the story may be outdated or superseded by additional information. Reading or replaying the story in its archived form does not constitute a republication of the story.
Carole Mikita ReportingCarrie McClure, the woman shot by her husband in Holladay Monday night, remains in serious condition this evening. She has a loyal group of friends who spoke with Carole Mikita today about their concern for her and other victims of domestic violence.
They are emotional, they are angry about what happened to their friend. Several of them have escaped violent situations and want other women to know it's possible.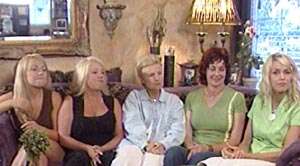 Pamela Heinbecker, Friend of Carrie McClure: "When a woman decides she's stepping out of a relationship, at that moment, that's the most dangerous time for her."
These five women know that well. They listened to, watched over, and advised their friend, Carrie McClure who, they say, wanted out of her marriage. Her husband shot and critically injured her three days ago. Carrie and her children, actually lived with Pamela Hill and her daughter, Mychol, for six weeks several years ago.
Mychol Hill, Friend of Carrie McClure: "And she feared him very much, so she hid here."
Pamela Hill: "In fact, they put a restraining order on him so he couldn't come around me at that time."
Three of these women were abuse victims themselves.
Catherine Shelton: "I believe that we need to ask ourselves 'Would I allow this for my daughter or my son?' And if we wouldn't, then why would we be allowing it for us?"
Carrie McClure went back to her husband, Garth, recently. Her friends feared the worst.
Rhonda Woodward: "She kind of separated from her friends when they reconciled because, you know, we had told her, 'you can't stay with this man, he will kill you someday.'"
Now they are asking what more they could have done for a friend who told them she was forced to make choices out of fear.
Pamela Heinbecker: "We all feel connected tAo this and it's a very emotional thing, when someone you know, that you care about has nearly lost their life. And you say, 'what has happened?'"
×
Most recent Utah stories