Estimated read time: 4-5 minutes
This archived news story is available only for your personal, non-commercial use. Information in the story may be outdated or superseded by additional information. Reading or replaying the story in its archived form does not constitute a republication of the story.
John Daley ReportingIs it "special treatment?" Some wonder, after state lawmakers this year passed a new law which seems to benefit the biggest players in one industry, including one of Utah's most powerful and politically-connected companies.
We compared the way lawmakers voted on one bill with the dollar signs--campaign contributions from one company, which backed that bill. Does money buy legislation on Utah's Capitol Hill? Well, our analysis shows it clearly doesn't hurt.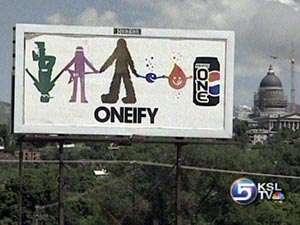 Senate Bill 114, you've probably never heard of it. Not many people have. It passed overwhelmingly in the final, frantic days of the legislative session with little, if any, public debate. It's a bill that clearly favors the state's largest billboard companies, including powerful Reagan Outdoor Advertising.
Longtime political observers say it's an example of how Reagan has manipulated the political system to give it significant advantages over competitors and the towns that regulate its industry.
Rep. Ralph Becker, (D) Salt Lake City: "They come to the legislature, where we're a step removed from that local population, and they ramrod through pretty much whatever they want."
In their most recent campaigns Reagan gave nearly 37-thousand dollars to 74 individual legislators; that's 71 percent of the entire legislature. Not one lawmaker who got money from Reagan voted against the bill. Sixty-nine who did voted in favor of the bill, five were absent or did not vote.
The bill's sponsors say the measure wasn't controversial and it was not opposed by the League of Cities and Towns.
Sen. Michael Waddoups, (R) Bill's Sponsor: "I think it's a matter of doing the right thing for business. I think the Utah legislature is pro-business."
Rep. David Ure, (R) House Sponsor of Bill: "I will say Reagan Advertisement has done a very good job of trying to teach the legislature from their perspective as to how this affects them and other people have the same opportunity."
But Springville businessman Jamie Evans sees it another way. He owns a small billboard company and has tangled with Reagan over billboards on his property. The new law keeps old billboards that need to be replaced from being rebuilt by anyone but the company that put it up in the first place... Most often, big companies like Reagan.
Evans says the law essentially eliminates a lot of competition and prevents small companies from even entering the billboard business.
Jamie Evans, Small Billboard Company Owner: "I was surprised that the legislature would pass a bill that hurt property owners in the state and benefited one industry."
Reagan gave contributions to republicans and democrats, rank and file and leaders, a thousand dollars to Speaker Greg Curtis, two thousand dollars to House Majority Leader Jeff Alexander. And over the past two election cycles, Reagan also gave a generous advertising perk to candidates, in-kind donations--election billboards--reported in the hundreds of dollars to 25 legislative campaigns, including Democratic Senators Ron Allen and Ed Mayne and Republicans Dan Eastman, Peter Knudson, Howard Stephenson, Michael Waddoups and Carlene Walker.
Sen. Carlene Walker, (R) Cottonwood Heights: "Indeed they do contribute. And those of us who campaign, billboards are very advantageous, but fact of the matter is their proposal made sense."
In the House Reagan has helped lawmakers on both sides of the aisle get elected with in-kind billboard donations, including Ron Bigelow, Duane Bordeaux, James Gowans, Karen Morgan, and David Litvack.
Rep. David Litvack, (D) Salt Lake City: "I'm not going to base my vote on who gives me contributions."
Reagan declined repeated requests for an on camera interview. Over the phone, company executive Dewey Reagan told us, "We do make those political contributions. What I believe is you have the ability to tell your story. It doesn't influence the outcome of the legislation."
Nonsense says former Provo lawmaker Jordan Tanner, a republican and longtime champion for campaign finance reform. He says companies give because it works.
Jordan Tanner, Former State Lawmaker: "They're not contributing to a legislator because they're trying to be good citizens."
Jordan Tanner, Former State Lawmaker: "Reagan has time after time been able to get significant bills passed which do not reflect, in my opinion, the will of the public."
The grand total for all of Reagan's contributions in 2004 was 126-thousand dollars. Reagan's generosity was widespread with 10-thousand dollars to Attorney General Mark Shurtleff and 45-thousand dollars to no less than six Republican candidates for governor, including Olene Walker, Jim Hansen, Nolan Karras, Marty Stephens, and Gary Herbert. Reagan also gave 20-thousand dollars to Governor Jon Huntsman, who ultimately signed Senate Bill 114.
×
Most recent Utah stories