Estimated read time: 4-5 minutes
This archived news story is available only for your personal, non-commercial use. Information in the story may be outdated or superseded by additional information. Reading or replaying the story in its archived form does not constitute a republication of the story.
For more info on how you can volunteer,CLICK HERE. (KSL News/AP) -- Search and rescue crews on Sunday continued the search for an 11-year-old Boy Scout missing since Friday night.
The search for Brennan Hawkins of Bountiful was to resume Monday at 7 a.m.
An estimated three thousand volunteers showed up to look for Brennan Sunday. By 2:00pm Sunday afternoon, authorities had all the volunteers they needed.
Brennan Hawkins, Bountiful, was last seen near a climbing wall at Summit County camping area in the High Uintas, about 50 miles northeast of Kamas.
A climbing-wall supervisor said he saw the boy about 5:30 p.m. struggling to remove climbing gear. At the same time, he saw the boy's friend walking down a dirt road toward the family's river-bottom campsite about 200 yards away. The supervisor looked away and then looked back, but didn't see either boy, Summit County Sheriff's chief deputy and search and rescue coordinator Dave Booth said.
"He must have separated from his friend," his mother Jody Hawkins said Saturday. "He doesn't have a great sense of direction."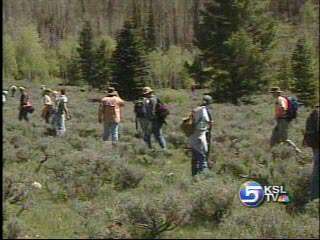 Volunteers were told to look for any clothing, footprints or clues of 11-year-old Brennan Hawkins. Some searched on horseback, while others, like Wendy Rasmussen, brought ATV's to aid in the effort. Wendy is in the same LDS ward as Brennan.
Wendy Rasmussen, Searcher: "It's just heartbreaking. Brennans a sweet little boy, and we just want to find him. Felt like we needed to be here. If it was my own little boy, I would want everybody here too."
Joel Carter, Searcher: "Well, I hope they find him, or get some sort of answer. It's kind of scary without that."
Scout leaders began a search for the boy about 6:30 p.m. Friday and were joined by the Summit County search and rescue squad about 9:45 p.m.
On Saturday, about 1,000 searchers combed the East Fork of the Bear River Boy Scout Reservation and the surrounding areas but had not located him. Searchers were on foot, horseback and all-terrain vehicles and helicopters scoured the rugged mountains from the air.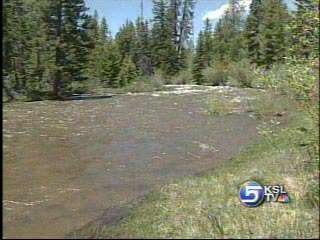 Hawkins, who recently completed the fifth grade, was wearing just a blue sweatshirt, black shorts and white tennis shoes when he disappeared. Search officials were not concerned about exposure, as temperatures were only expected to drop into the 50s overnight.
"The biggest risk is the river," Booth said. "It's over a man's head in some places, and the current is swift." The Bear River's East Fork runs near the Scout camp's climbing wall, though not in the direction of the campsite where Hawkins was staying.
Utah's Senate President was one of the volunteers combing the river.
John Valentine, Utah County Search and Rescue: "We are a swiftwater team. So we went into the water with two canines, one on each side of the bank. You actually get into the river with long poles, and you look for places where things can get caught."
Sheriff Dave Edminds, Summit County Sherrif's Office: "Because it's a small child, sometimes they are drawn to water, so that is a possibility."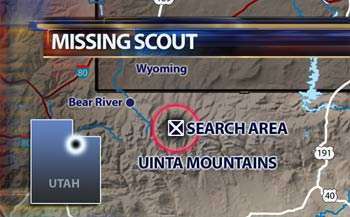 The area being searched is just 15 miles from where 12-year-old Garrett Bardsley vanished last summer while camping near Crystal Lake. Bardsley was never found, despite a wide, weeklong search.
On Saturday, Bardsley's father, Kevin Bardsley, joined the search for Hawkins.
Booth said the area of the current search is "less severe" than the place where Garrett was lost - not so high, steep and cold.
In addition to the search and rescue operation, as part of its standard procedure Summit County officials are conducting a parallel criminal investigation -- although there is no solid evidence to indicate criminal activity. Summit County Sheriff Dave Edmunds says the search is being treated as a possible kidnapping, and as a missing-person case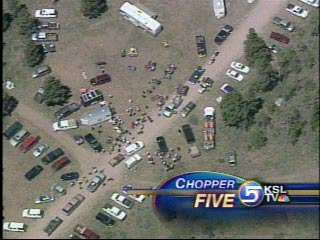 Hawkins is a Boy Scout, but was not camping with his troop Friday, his mother, Jody Hawkins said. He was a guest of his climbing partner, who father is a volunteer leader an annual large trip for Varsity Scouts, ages 16 and 17.
Sheriff Dave Edminds, Summit County Sherrif's Office: "You know, his dad's out here looking for his son, I can't think of a worse Father's Day scenario."
Volunteers will work till sundown, and then begin again in the morning. Authorities are hoping with the work week starting, that there will still be a lot of volunteers to show up on Monday, if necessary.
(The Associated Press contributed to this story)
×
Most recent Utah stories