Estimated read time: 2-3 minutes
This archived news story is available only for your personal, non-commercial use. Information in the story may be outdated or superseded by additional information. Reading or replaying the story in its archived form does not constitute a republication of the story.
Jed Boal ReportingWildfires roared to life this week across the Southwest, right in the wake of a wet spring. In Southern Utah more than a dozen wildfires sparked by lightning took off quickly.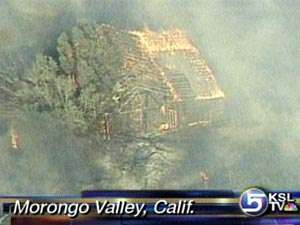 Fire crews may get little rest in the months ahead. The wet spring was just what we needed in Utah; plants everywhere drank up the moisture. As the heats sets in and the plants dry out, wildfire season will burn from south to north.
Carefree, Arizona, a 30-thousand acre wildfire incinerates a dozen homes, hundreds of other homeowners flee.
Near Palm Srpings, California wildfire rips through a half-dozen homes.
In Washington County hundreds of firefighters battle on several fronts, but none of the fires threaten homes.
David Boyd, Bureau of Land Management: "As the afternoon has heated up, starting to get some winds, seeing an increase in fire activity."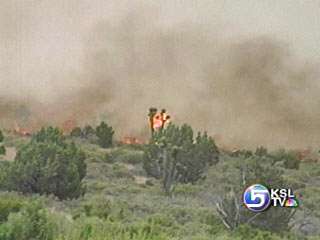 Wind whips the flames through dry grass; one hundred more firefighters are on the way. The Red Fire has burned 83-hundred acres.
Lightning started 10 fires on Utah Hill, the largest of which scorched 250 acres and crews battle five fires on the Arizona strip. Firefighters hope to contain the Red Fire with a road.
David Boyd: "If it jumps the road and keeps burning, we're looking at a new fire again."
The State Fire Management Coordinator says the west desert is thick with fine fuels.
Dave Dalrymple, State Fire Management Coordinator: "It's only going to take a week, maybe two weeks. If we get any lightning or human-caused fires, we'll be off to the races."
Cheat grass is the one that presents the biggest problem. It's the one with the purplish hue when it goes to seed and is the dominant grass in the Great Basin. It lights easily and burns quickly and it's flourishing this summer.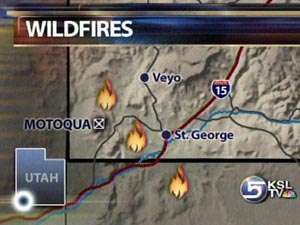 During the drought we all helped reduce the number of wildfires, but even in a wet year, the fire manager says we need to be careful.
Dave Dalrymple: "I'm glad to have the water. The reservoirs are full and we actually have water to suppress fires. I still think we may have a tough season ahead of us."
Washington County is already under fire restrictions--no fireworks anywhere, no campfires outside of established sites. As for the rest of Utah, no restrictions yet, the upper elevations are still under snow.
×
Most recent Utah stories