Estimated read time: 2-3 minutes
This archived news story is available only for your personal, non-commercial use. Information in the story may be outdated or superseded by additional information. Reading or replaying the story in its archived form does not constitute a republication of the story.
Tonya Papanikolas Reporting"What we see is more fatal accidents and serious injury accidents in the summer."
During the summer, Utah has an average of about one fatal car crash a day. Though more car crashes happen in the winter, more fatal crashes occur in the summer. During these months there's a lot of people on the roads; officials want people to be prepared and keep safety in mind at all times.
This morning a 49-year-old man died after a rollover accident near Kaysville. The man's wife was taken to the hospital in good condition. She was driving when their tire blew out.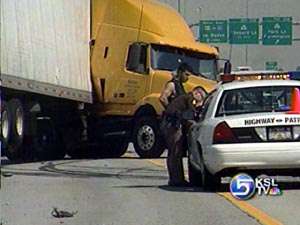 Sgt. Robert Breck, Utah Highway Patrol: "From the markings on the road, it looks like the right rear tire started to lose air in it, started to go flat. And then the tread came off."
The car rolled and the man sitting in the passenger seat was ejected. He wasn't wearing a seatbelt.
Sgt. Robert Breck: "We can't stress it enough. Wearing your seatbelt does save your life."
As traffic backed up from this accident, the driver of a semi then ran off the road and jack-knifed his truck.
Eric White, Utah Highway Patrol: "Driver was going a little bit too fast. Traffic ahead was coming to a stop and he couldn't stop in time."
That driver was okay, but he was fortunate. According to Utah statistics, fatal car crashes spike in the summer months. Take a look at 2003--in June, July and August, deadly crashes occurred about 30 times a month. In November and December that number was in the teens.
Rolayne Fairclough, AAA Spokeswoman: "It's the high speeds, it's the fatigue, and it's just thinking roads are safe because they're dry and the weather's clear."
As this morning's fatal accident proves, before heading out on the road it's important to make sure your car is in good condition. At Les Schwab Tire Center in Murray they'll check your tire pressure and tread for free, along with some general maintenance.
Steve Roberts, Les Schwab Manager: "If the tire is low, that tire will expand, especially due to heat. And eventually will go if the tire is low. What you should look for in the tread is any type of wear on the shoulder or the center."
Also, make sure to buckle up, don't drink and drive, keep your eyes on the road, and make sure you're taking breaks if you're driving long distances.
×
Most recent Utah stories