Estimated read time: 3-4 minutes
This archived news story is available only for your personal, non-commercial use. Information in the story may be outdated or superseded by additional information. Reading or replaying the story in its archived form does not constitute a republication of the story.
John Daley reporting Residents near New Harmony in Southern Utah made a quick, and in some cases panicky retreat from their homes Monday night. A dramatic wind shift forced them to evacuate as a raging wildfire approached.
Just hours after winds took the flames away from town, they shifted again, putting homes in danger. Eighty residences were evacuated Monday night.
The Blue Springs fire, as it is called, is one of three now burning near the southern end of the state, eating up more acreage by the hour.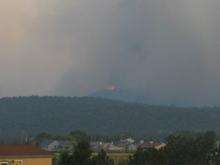 This blaze quickly changed directions around 6:30 p.m., threatening homes in the Harmony Heights and Mountain View Estates near New Harmony.
No homes have been lost.
It was a dramatic display of what fire can do and how quickly its victims can respond.
The 10-thousand acre blaze looked like it was under control, then suddenly the wind changed direction, forcing residents to get out and take what they could gather up with them.
Don and Emily Jones said they saw a wall of fire heading toward the subdivision where they have lived since 1993. They managed to rescue their three dogs but could not find their two cats.
"When we looked out the back, we thought if our home is still there, it will be a miracle," Emily Jones said. It's not just property, "it's your dreams," she said.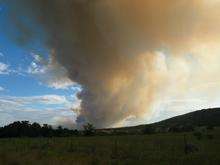 By late Monday, the winds were diminishing, but the evacuation order remained in effect and "several" homes remained in danger, Bureau of Land Management information officer David Boyd said.
The National Interagency Fire Center said the blaze had burned 10,000 acres of grass, pinyon, pine and oak brush. It was 30 percent contained.
The homes were evacuated as fire crews on the ground and choppers in the air tried to protect them. But Mother Nature, in the form of dry fuels and unpredictable winds, made it an uphill battle.
"It's just really smoky and there's flames coming down."
Evacuated homeowner Richard Ulrich called it, "A little upsetting, a little nervous. We'll see what they can do to save the houses up there."
The blaze even is affecting things as far north as the Wasatch Front, where it helped murky up the air and trigger an ozone alert.
Fire officials say they are marshalling all available resources to fight this blaze, but typically it is too dangerous to fly airdrops at night. So they have to hope the roughly 300 fire fighters on the ground can contain things until tomorrow. And of course they're hoping the winds cooperate, too.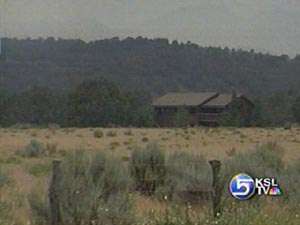 The residents being evacuated from New Harmony were told they could go to Canyon View High School in Cedar City.
It's amazing to think a single lightning bolt can affect so many people and burn so much land.
Merlin Moyes has been watching the Blue Springs fire from his home in Pintura since it began Saturday. "A lot of grass has burned over there, so I doubt if that will kick up again, but it could," he said earlier Monday.
Flames have come his way before, but you just don't ever get used to seeing it so close, he said.
Another rancher, Trujillo Amy, was rushing to get his animals to safety. "Somehow they managed to run away from the fire. And it burned a bunch of our fences and stuff, so today we're gathering them off the mountain."
The flames seemed to pass on Pintura and headed north towards New Harmony.
Rick Hanlock was told to be ready to get out in an hour's notice. He never thought he'd have to decide what to save and what to leave behind.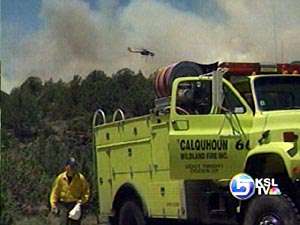 "My wife looked at me and said, 'I don't know what to do.' And I said, 'Well, I guess when the flames get real close you'll know what to do.'"
He said, "Eleven years ago there was a handful of houses out here. We've had fires like this every year, but nothing of this magnitude."
Meantime, the Westside Complex Fire near St. George is 90 percent contained. Officials say they expect that 68-thousand acre fire to be fully contained by late Tuesday afternoon.
(The Associated Press contributed to this report)
×
Most recent Utah stories