Estimated read time: 1-2 minutes
This archived news story is available only for your personal, non-commercial use. Information in the story may be outdated or superseded by additional information. Reading or replaying the story in its archived form does not constitute a republication of the story.
Amanda Butterfield reportingTwo police cars are smashed and a golf course is left in ruins after a high speed chase through Salt Lake County.
Taylorsville police spotted the suspect around 9:15 last night on 5600 South. Officers say the 33-year-old man had a past criminal history and was armed with a weapon, so they tried to pull him over.
But, the driver sped off, beginning a chase with police. Speeds reached up to 80 miles an hour. The chase itself lasted about 10 minutes.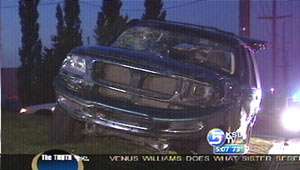 The suspect tore through a fence near a golf course and blazed through the golf course itself, hoping to make a getaway. He then rammed an officer's car when they tried to block him.
Sgt. Rosie Rivera/ Taylorsville Police Dept.: "With his intent on hitting an officer, we just couldn't take the chance of not pursuing him."
That officer's car was pretty smashed. In fact, he was trapped inside and had to be cut out of the vehicle.
A second patrol car was also damaged on the golf course when the officer lost control and crashed. Neither officer was hurt.
The suspect was taken to a hospital but should be fine. He should be be booked into the Salt Lake County Jail and be charged.
Police believe the SUV he was driving was stolen.
×
Most recent Utah stories