Estimated read time: 1-2 minutes
This archived news story is available only for your personal, non-commercial use. Information in the story may be outdated or superseded by additional information. Reading or replaying the story in its archived form does not constitute a republication of the story.
Carole Mikita ReportingBusinessmen who lease space on the ground floor of the hotel that burned this morning were stunned today as they surveyed the damage. One of those businesses is the Brushworks Gallery with hundreds of artworks, some of them are valued in the tens of thousands of dollars.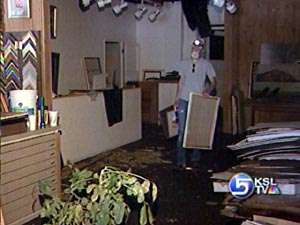 This is a long-time Salt Lake business; the gallery and art framing shop have been here for 28 years. Brushworks Gallery is a life's work. It is too early to know how extensive the smoke and water damage is, but some works, only on paper, are lost and framing materials are badly damaged.
The owner says the firefighters save lives and they saved his art.
Darryl Drage, owner, Brushworks Gallery: "If I was a firefighter, I don't know if I'd save any paintings; I'd get out of the building. But they saved a lot of paintings and came back in here when I arrived on the scene about 2:30 in the morning, came in and brought a couple of paintings out that were worth in excess of 50-thousand dollars. They took all the paintings off the walls and stacked them very neatly, I might add, in what would eventually be the driest corner, which is only a very small space in here, and covered them all with tarps."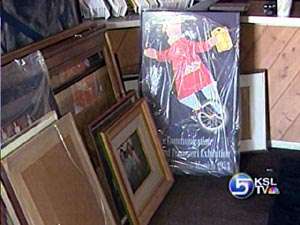 Next door is the Star of India, the oldest Indian restaurant in Salt Lake, in business now for 16 years. The ceiling panels came crashing down this morning and there is smoke and water damage there as well. Both owners have insurance but they still don't know the extent of the damage and what the building's owner will do. They need a couple of weeks to figure out how and when to reopen.
×
Most recent Utah stories