Estimated read time: 2-3 minutes
This archived news story is available only for your personal, non-commercial use. Information in the story may be outdated or superseded by additional information. Reading or replaying the story in its archived form does not constitute a republication of the story.
John Hollenhorst ReportingState Parks officials are proposing a crackdown on a daredevil sport in Snow Canyon near St. George. It involves jumping off a cliff and hoping for the best. Depending on your point of view, the daredevils who do this are either brave, crazy, or both. They jump from cliffs or high structures, hoping the chute opens properly and in time.
Carson Klein, Base Jumper: "I do it and other base jumpers do it for the pure thrill, the adrenaline rush."
Carson Klein is one of a handful of base jumpers who will admit jumping from this cliff in Snow Canyon State Park. It's borderline-illegal already. Now park officials want to ban it entirely, partly because rock-climbers use the same cliff.
John Ibach, Snow Canyon State Park Manager: "The base jumpers jump over them. And that's the main issue."
Bruce Hamilton, Utah State Parks: "And probably the last thing you want, as you're climbing up a rock face, is to have a parachute opening 20 feet off of your shoulder."
Carson Klein: "It's not too unsafe for the climbers. It could be unsafe to us. But you know everything is unsafe to some respect. We make it as safe as we can, and it usually works out."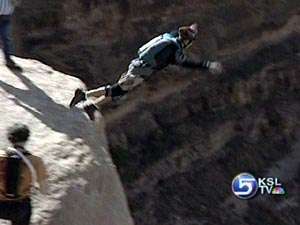 Sometimes it doesn't work out. In an incident at Lake Powell a decade ago a base jumper was killed. It's already banned at Dead Horse Point State Park and at all National Parks in Utah. But Klein says equipment is getting better and experience levels are rising, so someday officialdom will eventually have to recognize it's a legitimate sport.
Carson Klein: "It's becoming more mainstream. They're not going to be able to keep shutting us down on our cliffs."
Although some base jumpers are trying to shed their outlaw image, others glory in it. So it's not at all clear that a ban on base-jumping would have the intended effect.
Another concern at Snow Canyon is the trampling of habitat used by the endangered Desert Tortoise. The State Parks & Recreation Board will take up the issue at its meeting July 8th.
×
Most recent Utah stories