Estimated read time: 2-3 minutes
This archived news story is available only for your personal, non-commercial use. Information in the story may be outdated or superseded by additional information. Reading or replaying the story in its archived form does not constitute a republication of the story.
Samantha Hayes ReportingA terrifying morning for residents of the Stratford Hotel as flames trapped many of them on the upper floors and left them screaming for help from firefighters below. And police say one man, John Amos Perry, purposely started the fire.
He's now under arrest, but investigators say their work isn't done. That's because, Stratford residents claim, the fire extinguishers didn't work properly. A follow-up investigation will probably reveal whether the fire extinguishers were working properly or not, but otherwise everyone inside made it out okay.
The fire broke out at about 1:15 in the morning; the fire department had it under control in about 45 minutes. At the time Norman Rivers wasn't thinking about whether his building was up to code, he just wanted to get out of it.
Norman Rivers: "I felt my life is in Jeopardy."
Norman and about 50 other residents made it out, some were treated at the hospital. And before crews arrived, a few people inside tried to put the fire out themselves.
Timothy Pullins, Resident: "I saw one fire extinguisher work out of six, it could have been contained. It was small enough at the time if all of them would have worked, we probably could have gotten it out."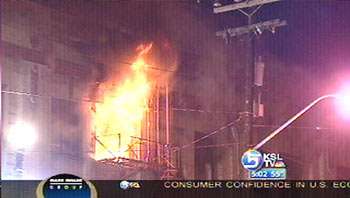 The Salt Lake City fire department has not experienced major problems with the Stratford Hotel in the past, but is investigating the building after the fire.
Scott Freitag, Salt Lake City Fire Dept.: "It was not required to change or upgrade to building codes. That building is probably 75 years old and it's required to meet building codes of 75 years ago."
However, the city enforces in all buildings things like fire extinguishers and exit signs. A 1996 building services report showed the Stratford needed fire resistive construction in a stairway and needed more fire extinguishers. But in a partial inspection in 2000, those things didn't come up again.
To be safe, the fire department says you should ask about fire prevention if you are living in an old building.
Scott Freitag: "What has the landlord installed on their own to provide for the safety and well-being of their residents. Smoke detectors, sprinkler systems, questions to ask."
With the help of the Red Cross, 50 residents have found somewhere else to go for the night.
×
Most recent Utah stories