Estimated read time: 2-3 minutes
This archived news story is available only for your personal, non-commercial use. Information in the story may be outdated or superseded by additional information. Reading or replaying the story in its archived form does not constitute a republication of the story.
Amanda Butterfield reporting A historic piece of Orem's skyline came crashing down this morning as part of Geneva Steel was demolished.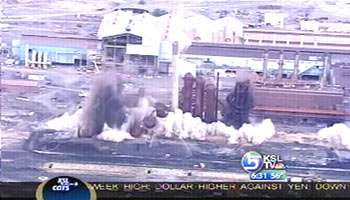 Hundreds of people, including former employees, watched nearby as several stoves and smokestacks of the 61-year-old plant were imploded at six am.
Since 1944, the Geneva Steel mill has towered above the Utah County skyline. But now, it will be nothing more than a pile of broken glass, brick, and piping.
More than three thousand pounds of explosives were used to begin the demolition this morning. When the dust from the blast cleared, four of the 170-foot tall stoves were still standing.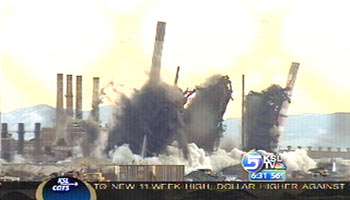 Crews aren't sure exactly why those four stoves didn't come down. They'll clear the debris then probably rewire them in a couple of weeks.
Authorities' say this morning's explosion was probably a rude and surprise awakening for people living in Orem, Vineyard and Lindon. Demolition crews didn't want to publicize the event for safety reasons.
The Geneva Steel plant has been practically vacant since the company went bankrupt in 2002. The business was unable to get proper financing to keep the plant up and running, so they had to sell off most of the mill's equipment.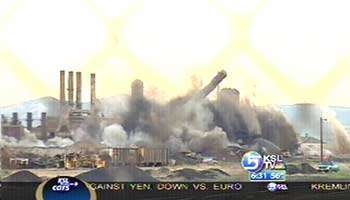 The mill used hot furnaces and melting irons to produce about 36 hundred tons of hot iron each day. Now the remnants of the mill were blown up by Salt Lake-based Grant McKay Demolition.
Demolition teams took extra precautions here to make sure everything ran smoothly, and safely.
A 25 -foot high, three hundred foot long dirt beam was placed on the east side of the plant to absorb the blast's sound and debris. Without that beam, officials say windows of nearby businesses could've been shattered.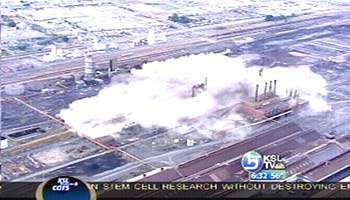 Geneva Road was also closed for this morning's explosion.
Teams say today's demolition significantly changes Utah County's skyline. The plant towered 265 feet above the town of Vineyard, and now the skyline will be much more open.
(The Associated Press contributed to this report)
×
Most recent Utah stories