Estimated read time: 2-3 minutes
This archived news story is available only for your personal, non-commercial use. Information in the story may be outdated or superseded by additional information. Reading or replaying the story in its archived form does not constitute a republication of the story.
Amanda Butterfield Reporting This week of Wimbledon has been an exciting time for a family in Grantsville. All four of the kids play tennis, and all four are rooting for Roger Federer. The youngest, in particular, because at only seven, he's showing potential to one day become a pro himself.
This up and coming tennis champ may be small, but he's got a forehand like a 12-year old, with dreams of playing like is idol, Roger Federer.
He's one of the smallest on the court, and one of the best.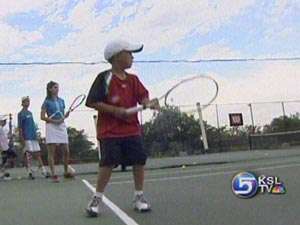 Coach Mike: "He's truly a phenomenon in the game of tennis."
Seven-year old Brevin Elsholsz practices tennis five days a week, and it shows.
Brevin Elsholsz:" I beat a ten year old, another 10, and seven-year old."
For two years now he's been playing with his sister and brothers.
Christopher Elsholz: "He's very good, we've played a lot; he's getting very good."
It was Christopher's desire to get better at the game that got the family hooked.
Coach Mike, Dee Smith Tennis Center: "He was a frustrated little tennis player and we started working with him."
Then Kelsey wanted to play, then Tanner, and Brevin wasn't about to be left out. And immediately he stood out. At five, he started competing.
Coach Mike: "He's probably played 20 tournaments already."
And Brevin always steps on the court with confidence.
Brevin Elsholz: "In my mind I say, 'I'm going to beat you.'" "IN MY MIND I SAY I'M GOING TO BEAT YOU."
Because he hates to lose, and every game hopes to play like his idol, Roger Federer, who the family has been watching all week.
Brevin dreams one day he'll grace the grass courts, but first things first. Brevin has a long way to go still, and one opponent he's yet to ace.
Brevin Elsholz: "My oldest brother."
Though he's getting close.
×
Most recent Utah stories