Estimated read time: 1-2 minutes
This archived news story is available only for your personal, non-commercial use. Information in the story may be outdated or superseded by additional information. Reading or replaying the story in its archived form does not constitute a republication of the story.
Kim Johnson ReportingThose of you who have trampolines in your backyard, listen up. New research is again sounding a warning to get rid of them.
The American academy of pediatrics has said before that trampolines should NOT be used at home or in recreational settings. The organization is reiterating that position again. Researchers just completed a study at children's hospital in Columbus Ohio comparing injuries sustained on mini trampolines to full-sized ones. They found people, especially under age six, were just as likely to hurt themselves on either one. However, injuries on mini-trampolines were less likely to require hospital admission.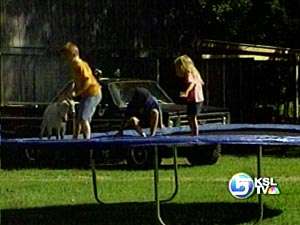 Dr. Bob Bolte says the emergency room at Primary Children's Hospital sees 150 kids a year come in with injuries sustained on trampolines. Most are leg sprains and fractures, but occasionally he says he sees the tragic results of kids doing flips and injuring their necks or spines.
Dr. Bob Bolte, Primary Children's Hospital: "No matter what you try to do to pad it, if they hit wrong when they're doing a flip, their life and the life of their family is dramatically changed for the worse forever, and it happens like that."
Dr. Bolte says flips are extremely dangerous and he advises parents to talk to their children about the inherent dangers of doing flips on trampolines. Nationwide there are 75-thousand pediatric injuries a year from trampolines.
×
Most recent Utah stories