Estimated read time: 2-3 minutes
This archived news story is available only for your personal, non-commercial use. Information in the story may be outdated or superseded by additional information. Reading or replaying the story in its archived form does not constitute a republication of the story.
SALT LAKE CITY -- In the event of a worst-case public health emergency, such as an influenza pandemic, the demand for treatment in Utah may eclipse the capacity of the state's health care system. In order to ensure that those who need medical treatment can receive it, the Utah Department of Health has developed a new set of triage guidelines. They're testing them at various hospitals Wednesday.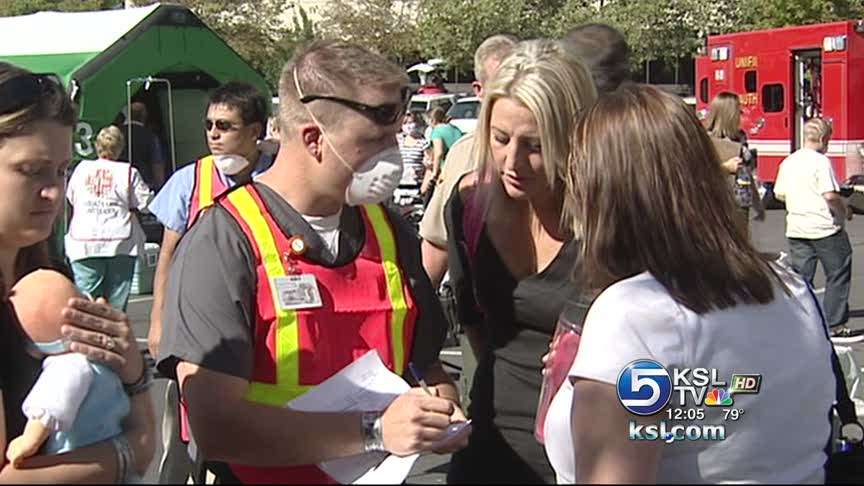 In the event that the Governor declared a public health emergency, the new pandemic influenza guidelines would be implemented on a statewide level and would apply to all health care professionals and facilities. At most hospitals, the scenario would look something like what happened at St. Mark's Wednesday.
During this morning's drill, actors posing as patients showed up to triage tents set up in the parking lot and presented their symptoms to a doctor or other medical professional. The medical staff at each of the hospitals then used the new guidelines to assist in making treatment decisions.
Steve Bateman, CEO of St. Mark's Hospital, said, "These physicians and other caregivers that are involved are, of necessity, having to make these decisions one by one, and that's really the most important part of this scenario. It's the first time that we've done a scenario where caregivers have had to make life and death decisions about patients who come. "
MountainStar hospitals like St. Mark's are the first health care facilities in the state to test the new triage guidelines. Wednesday's drill was a full-scale operation--with law enforcement, community response teams, and even a mobile morgue.
One doctor we spoke to involved in the drill says the scenario was a real as it could be without having an actual pandemic.
Dr. Pete DeWeerd said, "It is hard to imagine, but I talked to one of the nurses this morning and she said, 'This makes me nervous, I'm getting goose bumps, I'm getting nervous.' It's giving us all an opportunity to think about what it is really going to be like."
The state triage guidelines were developed by the Utah Department of Health with input from local health departments and health care facilities from around the state. The guidelines are still in a period where UDOH is seeking public comment about them.
E-mail: spark@ksl.com
×
Related links
Most recent Utah stories