Estimated read time: Less than a minute
This archived news story is available only for your personal, non-commercial use. Information in the story may be outdated or superseded by additional information. Reading or replaying the story in its archived form does not constitute a republication of the story.
Carole Mikita ReportingIf you've been hearing harmony all over town, it's not your imagination. The International Barbershop Society has its annual convention in Salt Lake.
For some, it's simply in the genes. With Dad, Mom and little sister, Patrick McAlexander makes four, which brings family harmony to a whole new level. But this young man has both talent and brains; he is a trivia master.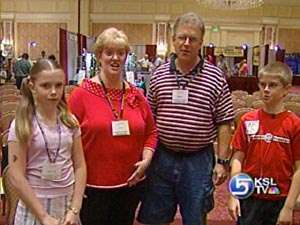 Joe Connelly, Three-time Gold Medal Winner: "This is the future of the Barbershop Harmony Society."
Patrick McAlexander: "I've always loved barbershop and I just became interested in looking at all the trivia and the history. It's like to know more is to make it more exciting."
And nothing could be more exciting than bonding with an international champion - the man known as Awesome Joe.
Patrick McAlexander: "Joe is my idol, I mean, he's a great singer and he's a trivia nut, a trivia expert. You know, that's really what I see myself being."
And if the stars and the notes line up, Patrick McAlexander will be. Patrick's trivia seminar takes place Friday at 2:30 at the Grand America Hotel. "Way Back When" competes tonight at the Conference Center, the event begins at 7:00.
×
Most recent Utah stories