Estimated read time: 2-3 minutes
This archived news story is available only for your personal, non-commercial use. Information in the story may be outdated or superseded by additional information. Reading or replaying the story in its archived form does not constitute a republication of the story.
Samantha Hayes reportingAlexander Smith, passenger: "We've been sitting in traffic about 45 minutes."
The summer slowdown took on a whole new meaning Wednesday afternoon. But, it wasn't a car accident that caused the mess.
Sgt. Michael Wells: "When it opened up it dropped about 20-30 tons of asphalt on the ground."
The mess cost drivers lots of time, and UDOT lots of money to fix the road.
The problem is on I-215, all westbound lanes are closed starting at I-15.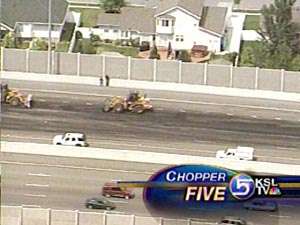 We talked to the driver of the asphalt truck, and he said there was an electrical malfunction that caused the holding area to open. He said he was on his way to the airport. The asphalt was intended for a parking garage, but it ended up all over the interstate.
Nile Easton, UDOT: "Which is why we have to go in and redo the road in this part."
Redoing a road takes a while.
Alexander Smith, Stuck in Traffic: We've traveled from San Antonio Texas to Elko Nevada and this is the slowest part of the whole trip."
It is not an easy fix: For the 20 tons of asphalt dropped, its going to take 220 tons to fix it.
Larry Baker, Stuck in Traffic: I'd like him to pay for all this time people have to spend sitting in traffic."
Nile Easton, UDOT: "The road itself was already hot and all those things came together..it actually bonded to it to basically form another layer of road essentially. "
The process to fix it is spelled out on the back of the Rodo-Miller: They have to chew it up, and spit it out.
Nile Easton, UDOT: "Iit goes through and grinds up about 5-6 inches of the top layer of the road then we come back through lay tar and oil and put the new asphalt down and then come back and re paint it."
There were three reports of vehicle damage.
The cost to fix the road: 25-30 thousand dollars. UDOT says it will be going to the trucking company for a check.
×
Most recent Utah stories