Estimated read time: 2-3 minutes
This archived news story is available only for your personal, non-commercial use. Information in the story may be outdated or superseded by additional information. Reading or replaying the story in its archived form does not constitute a republication of the story.
Sandra Yi ReportingPolice have arrested a man accused of forcing a teenage girl into prostitution, and there could be other victims.
It all started when police busted the teen for prostitution and found out she is underage. Police say that didn't stop a man from prostituting her throughout the Salt Lake Valley.
People going in and out of the Kearns home this afternoon wouldn't comment about allegations against the man, Jermaine Dion White. Police arrested him there early this morning for aggravated exploitation of prostitution.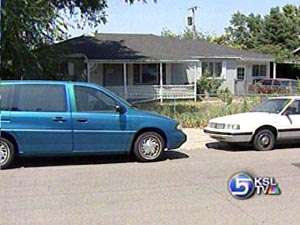 Det. Dwayne Baird, Salt Lake City Police Dept.: "Since about April 1, Mr. White has been using a 17-year old girl for prostitution."
Police say the teen committed lewd acts with men for money, mostly at hotels in Salt Lake County.
Det. Dwayne Baird: "We realized she was not doing this on her own free will. He was actually setting her up with the necessary advertising, if you will, for her to get involved in this prostitution."
Police say the teen has been a drug addict for years. They say White would give her drugs and food in exchange for money she made from prostitution. The teen was busted in April. That began a two-month investigation that ultimately led to White's arrest.
Det. Dwayne Baird: "I think what he found was this young girl who had a drug problem, and he found a way to manipulate how she would behave by providing her with drugs and getting money for himself."
But police believe the 17-year old isn't the only victim. During White's arrest they found evidence that leads them to think he forced other girls to do the same thing.
Det. Dwayne Baird: "17-year old girls usually are not engaged in this kind of activity. We want to make sure we help them in any way we can."
Police have yet not identified other potential victims. As for the 17-year old, she's in protective custody. Police say there are other adults involved in this prostitution case, so there could be more arrests.
×
Most recent Utah stories