Estimated read time: 2-3 minutes
This archived news story is available only for your personal, non-commercial use. Information in the story may be outdated or superseded by additional information. Reading or replaying the story in its archived form does not constitute a republication of the story.
Richard Piatt ReportingNews of the London terrorist attack has put the whole nation on heightened alert; Utah is no exception.
Officials emphasize there is no specific threat in Utah right now, but there is an elevated alert, especially on public transit. Even with a heightened alert status, the big news in Utah is how normal everything is. Traffic is typical. TRAX trains are running, so are busses. Salt Lake International airport reported only routine delays for air travelers.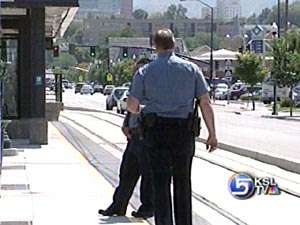 But there is an official response to what happened in London. Like Public Transit in every American city, UTA is on an 'orange' alert level right now. That means police officers are on every TRAX train.
Ross Jensen, UTA Public Safety Manager: "We clearly have taken steps to beef up the number of people, we've got people who are in on their days off to come in and work."
UTA has officers who normally ride TRAX trains. The stepped up presence is meant to address possible 'copy-cat' incidents. For TRAX riders, especially those with children, there is added comfort with the armed officers on board.
Donna Nolder, TRAX Rider: "They get nervous, and I assured them that the police officers are here and we can count on them because they're here to help us."
Cameron Kraus, TRAX Rider: "I feel definitely safer because they have extra officers and stuff. Yeah, I feel ok."
Also in Utah, most police agencies have their force on "modified Tactical Alert': Off-duty officers are standing by in case they're needed. Homeland security officials are also asking the public for help.
Verdi White, Dir., Utah Division Homeland Security: "People shouldn't be overly concerned. But they can help local police departments by reporting suspicious behavior when they see it."
Utah's security readiness was stepped up because of the Olympics, and 9-11. But since there's no local threat in this case, many of those procedures are not in place unless they're needed. Public Transit officials will remain on this higher alert for the rest of the week at least. In the meantime, UTA has a tip line so people can report suspicious activity: It's 287-EYES.
×
Most recent Utah stories