Estimated read time: 2-3 minutes
This archived news story is available only for your personal, non-commercial use. Information in the story may be outdated or superseded by additional information. Reading or replaying the story in its archived form does not constitute a republication of the story.
Ed Yeates ReportingArmy scientists will begin testing a new portable device next week that could identify bio-terrorism weapons in trains, buses and buildings within 60 seconds. The handheld detector, developed in Utah, is apparently easy to use and extremely accurate.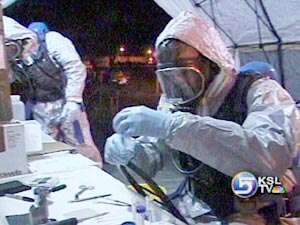 At the Army's Dugway Proving Ground, FBI, EPA, Swat, HasMat, police, firefighters and military support teams train for a new and emerging threat. They're looking for simulated biological weapons brewed by make-believe terrorists. But in order to save lives, these first responders have to identify any one of hundreds of viruses, bacteria, organic gases or other biological agents - QUICKLY!
That's why next week army scientists in a secure lab not far from here will test this new detector developed by a Utah company called AnzenBio. Handheld and weighing less than two pounds, this single device can rapidly identify almost anything a terrorist has concocted.
Gary Crocker, CEO, ANZENBIO: "By simply loading the biosensor chip with a different antibody or assay targeted to a different pathogen, the same basic device can be targeted for the detection of a very wide range of pathogens."
On site and working from a kit, users insert samples pulled from a bus, train or building into small vials, then into trays - each loaded to target a different pathogen. Once the sample is in the tray and loaded, the first responder simply pushes the button, and within sixty seconds, they know what they've got.
Gary Crocker: "They'll have a positive confirmation, not only that the pathogen exists, but the relative concentration of the pathogen."
The device can also target something threatening to wipe out an agricultural crop. Even beyond terrorism, how about the Avian Flu? As Gary Crocker claims it can quickly identify the virus and its concentration on site, in any location, in real time!
Each detector costs less than two thousand dollars. With yet another biosensor chip, it could also identify things like allergens and fungus in homes.
×
Most recent Utah stories