Estimated read time: 1-2 minutes
This archived news story is available only for your personal, non-commercial use. Information in the story may be outdated or superseded by additional information. Reading or replaying the story in its archived form does not constitute a republication of the story.
Sammy Linebaugh reportingA weekend drive turns into a nightmare for two people in Salt Lake. They were threatened with their lives by an angry driver armed with a box cutter.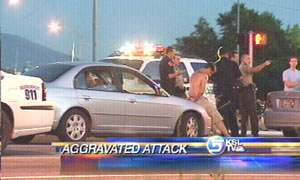 One person was hurt in last night's road rage. He was cut by a very aggravated driver who was carrying a box cutter.
It all started at the intersection of Richmond Street and Highland Drive. Two cars were waiting for a green arrow on the traffic signal at around 9:00 last night. The attacker's car was in front.
When the arrow turned green, the car in front didn't turn. Police say that aggravated the woman in the car behind him. She got out, and walked up to his car to find out why.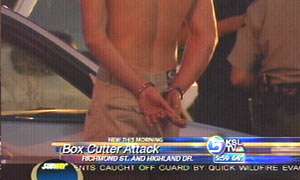 Sgt. Phil Eslinger/Salt Lake City Police Dept: "At that point in time, one of the male passengers exited the vehicle, came up, and told the guy he needed to move on. That's when the gentleman in the vehicle in front of us made a threat to stab them and produced a box cutter."
Police say he then cut the passenger on the arm, and tried to attack the female driver.
Officers arrested the man. He was taken to the Salt Lake County Jail. Police say he'll be charged with aggravated assault and simple assault.
The passenger who'd been cut had only minor injuries. The female driver wasn't hurt.
Police aren't sure if alcohol or drugs played a role in last night's fight.
×
Most recent Utah stories