Estimated read time: 2-3 minutes
This archived news story is available only for your personal, non-commercial use. Information in the story may be outdated or superseded by additional information. Reading or replaying the story in its archived form does not constitute a republication of the story.
SALT LAKE CITY -- The Utah Highway Patrol spiked the tires on the wrong car traveling down Parley's Canyon.
Early Sunday morning Austin Trivett was headed from Summit County to Salt Lake in his dark blue Subaru. "I was coming down I-80 westbound by the Quarry Exit," he explained.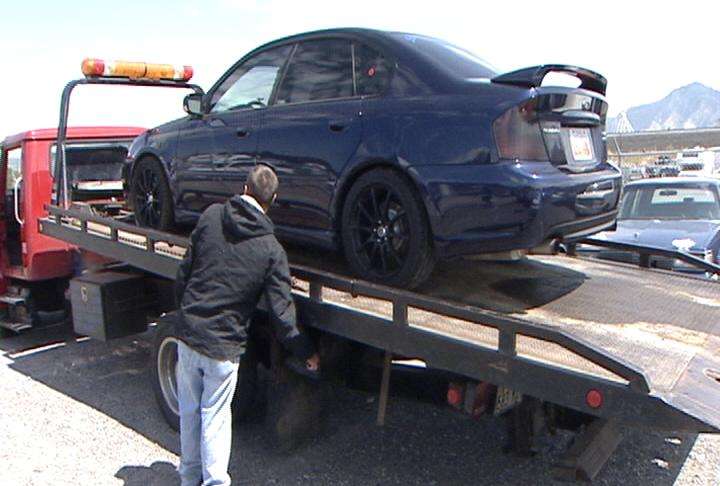 He didn't know that the Utah Highway Patrol was hot on the trail of a black BMW. The driver of that car was wanted for running a red light and speeding. Around a curve, UHP mistook Trivett's car for the BMW.

"They said because of the blue headlights they saw, they threw the spikes out at me," Trivett explained.

UHP Trooper Cameron Roden said, "When you're in a canyon road, you have twists and turns and not always can you see them a long way prior to getting the spikes on the roadway."

Trivett says it felt like hitting a speed bump. "Everything was mushy, so I went on the side of the road and there they were, flat as pancakes," he said of his car's tires.

![](http://media.bonnint.net/slc/1381/138141/13814103.jpg)

The Utah Highway Patrol uses a light-weight version of tire spikes called the Stinger. It is designed to puncture all four tires on a pursued vehicle and leave no debris. The synthetic polymer frame holds pointed hollow steel stubs with beveled tips. Its accordion-action makes it easy to deploy across the road and retract with a simple pull of the handle, clearing the road for pursuit vehicles and other traffic.

Trivett got out, put his hands up, and troopers realized their mistake. He says they were apologetic. "They felt bad," he said. Trivett went without a car for several days. He got it back Tuesday afternoon but says it's been a bit of a headache arranging to get the tires replaced. They were brand new. UHP will pay for the new tires and the towing expense. It admits spiking the wrong car happens, but not often.

"We regret he was put in that situation. Our apologies go out to him for the hassle he had to go through," Roden said.

Troopers never caught the driver of the BMW.

E-mail: abutterfield@ksl.com

×
Most recent Utah stories