Estimated read time: 2-3 minutes
This archived news story is available only for your personal, non-commercial use. Information in the story may be outdated or superseded by additional information. Reading or replaying the story in its archived form does not constitute a republication of the story.
Brooke Walker ReportingLosing weight isn't usually classified as fun, but one Utah company hopes to change that. Now it's more than just a diet, it's a war. And it begins at the computer.
That's right, Weight Loss Wars is an online company that promotes traditional ways to lose weight---healthy eating habits, drinking plenty of water and exercise. Factor in a little competition and the war begins.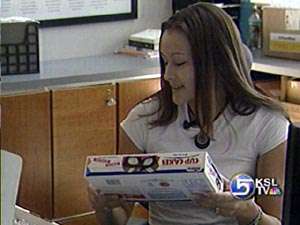 Tami Deleeuw wasn't expecting a surprise delivery at work. But don't credit her husband for his thoughtfulness--it was actually a sabotage. Tami's treats came from the sabotage store at Weight Loss Wars.com, an online company that hosts weight loss competitions.
The Deleeuw's decided to compete "belly to belly." They set a wager, set a time duration, and set out to win.
Mike Deleeuw: "Since I've gained like 16 pounds since we got married, I thought it was a good time. Plus it's a good opportunity to earn a couple hundred bucks (laughs)."
With just a click of the mouse they can monitor each other's progress; graphs demonstrate overall weight loss, water intake and exercise time.
Tami Deeleuw: "We're both pretty competitive. This gives us a little bit more of an edge where, we'll give in if we didn't have this motivation."
An online discussion board even offers a little competitive conversation.
Nina Sanchez is an employee of NuSkin International. She recently won her company competition, beating out co-workers by losing 41 pounds.
Nina Sanchez: "I didn't want anyone to pass me on the weight loss. I was so motivated to do this. Everything pushed me – don't let anyone beat you, you've worked so hard for three months for this."
Nina described the competition as "excitingly intense."
Nina Sanchez: "We talked on a daily basis, 'How you doing? You're winning today,' and it was really neat to have someone to compete with that you know. I wanted to be the winner, but I wanted to be the winner for me, to be a new person. I wanted to feel better about myself and I feel great."
Not only can you feel great, research shows health programs like this one can improve employee productivity and performance.
×
Most recent Utah stories