Estimated read time: 2-3 minutes
This archived news story is available only for your personal, non-commercial use. Information in the story may be outdated or superseded by additional information. Reading or replaying the story in its archived form does not constitute a republication of the story.
John Daley ReportingFor two straight days now customers of the state's largest electric utility have used a record amount of power. But there's something you can do to ease the power crunch.
Abie Martinez is doing his part for energy efficiency. Today he's getting rid of a 13-year-old refrigerator giving it to Utah Power.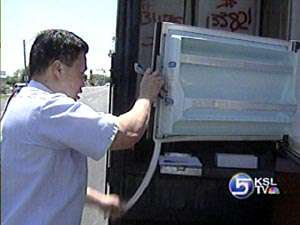 Abie Martinez: "I think it's really great."
For the refrigerator Martinez gets 40 dollars. What the utility gets is another old, less-energy efficient refrigerator off the grid. More than half residential energy demand is driven by our air conditioners and refrigerators, fridges use about a fifth of your home's energy.
This program, called "See ya later, Refrigerator" retires old fridges, which waste perhaps three times more energy than new models. The machines are dismantled, each part recycled. Every week the fridge crew are plenty busy.
Corey Anderson, Appliance Distribution: "We do get about a hundred calls a day, that's six days a week, that's about 600 a week."
Utah Power reports that the overall power demand is growing at about 2.5% each year, but during peak hours that demand is growing at twice that rate, more than 5% each year. That means when it gets really hot out, especially during the peak hours of noon to 8 pm, the power grid gets stretched to the limit, increasing the possibility that if there are problems there could be outages.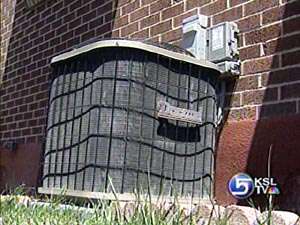 Another similar program is called Cool Keeper. The company installs a digital control unit on your air conditioner. It will shut the unit down for a few minutes perhaps on certain high demand summer days in concert with ACs at other homes. For that you get paid $20 and will only notice a 1 to 3 degree temperature change.
Margaret Oler, Utah Power Spokesperson: "But that's a small amount compared to the amount of energy that they're helping to manage on the grid."
×
Most recent Utah stories